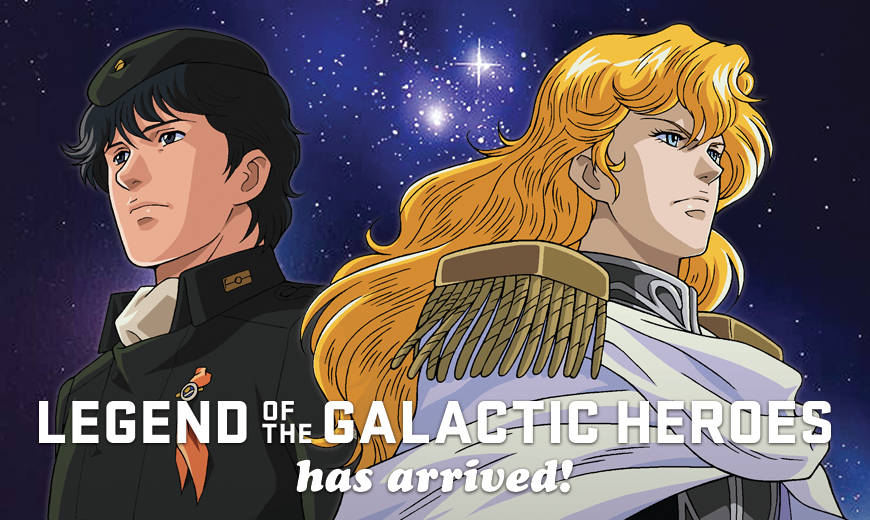 Sentai Filmworks Releases Streaming Details for 'Legend of the Galactic Heroes'
---
HOUSTON, TX, JUNE 20, 2017 –Sentai Filmworks is proud to announce the streaming release of the classic space opera, Legend of the Galactic Heroes. Fans will be able to stream the series exclusively on HIDIVE's anime streaming service starting June 20, 2017, with newly uploaded episodes available every Thursday at 11:00 AM CT on HIDIVE.com.
The entire Legend of the Galactic Heroes franchise, including the 52-episode Legend of the Galactic Heroes Gaiden OVA, will be scheduled to stream in HD on HIDIVE's streaming service. Additionally, the three Legend of the Galactic Heroes movies, My Conquest is the Sea of Stars (1988), Golden Wings (1992), and Overture to a New War (1993), will also be scheduled in the near future.
About Legend of the Galactic Heroes:
"The galaxy has been at war for 150 long years between the Galactic Empire and the Free Planets Alliance. As two new commanders enter the field of battle, the tides of war change. Imperial Admiral Reinhard von Lohengramm and the FPA's Yang Wen-Li shatter the wartime stalemate, elevating the war to a new level. Brilliant new strategies play out in the grand chess game amid the stars."
For Sentai Filmworks' latest announcements regarding this and other great titles, be sure to like us on Facebook and follow us on Twitter.
About Sentai Filmworks, LLC
Sentai Filmworks is a leading global supplier of anime and official anime merchandise, distributing, and curating one of the industry's most diverse libraries of top trending and classic titles. Offering thousands of hours of content across both traditional and digital platforms, Sentai is dedicated to bringing captivating stories and iconic characters directly from Japan. With hit series that include Parasyte –the maxim–, No Game, No Life, Food Wars!, Is it Wrong to Try to Pick Up Girls in a Dungeon?, and Akame ga Kill!, Sentai's catalog continues to grow with new favorites like Himouto! Umaru-chan and Monster Musume: Everyday Life with Monster Girls, as well as classic anime series such as Legend of the Galactic Heroes. For more information, visit www.sentaifilmworks.com.