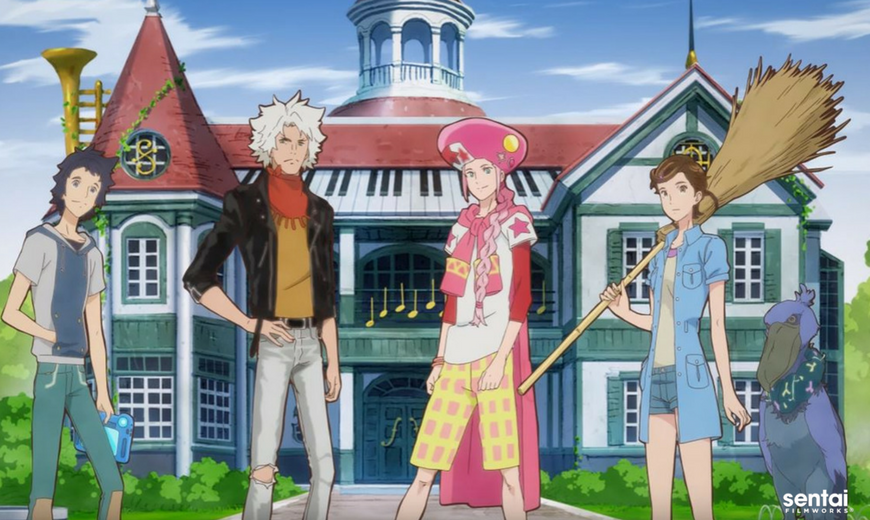 Sentai Filmworks' Scores Some Seriously Modern Musical Madness with"ClassicaLoid"
---
HOUSTON, SEPTEMBER 29, 2016 – Sentai Filmworks today announced that it added ClassicaLoid to its Fall 2016 lineup.
Kanae's got a two oddball houseguests in her beloved grandmother's mansion: Moz and Beetho-san. However, these guys, with their crazy antics and supernatural musical powers, claim to be Classicaloid versions of maestros Mozart and Beethoven! Their powerful "mujik" arrangements evoke more than just emotions: they can make the stars fall, spirits dance, or even summon… giant robots? Friend or foe, Kanae is stuck with them, even as more classicaloids begin to invade her life. Will their presence usher in a new musical renaissance in her sleepy town, or will their explosive euphonics cut the standing ovation short?
ClassicaLoid is directed by Yoichi Fujita (Gintama, Mr. Osomatsu), with series composition for the original story by Ichiro Sakaki (original creator of Chaika the Coffin Princess and Outbreak Company) and Michihiro Tsuchiya (IDOLM@STER, IDOLM@ASTER CINDERELLA GIRLS). The show was created by Bandai Namco Pictures (Tiger & Bunny and Gintama).
The person involved with the music for works like Final Fantasy X and more, Masashi Hamauzu, is in charge of BGM creation, with "mujik" contributions by Japanese electronic producers and rock musicians, including Tomoyasu Hotei (Transformers Live Action), Daisuke Asakura (producer of T.M. Revolution), Tsunku (composer and lyricist for Morning Musume), and MTV Video Music Award nominee tofubeats.
ClassicaLoid is scheduled for an October 8, 2016 broadcast in Japan. It will soon be available on select digital outlets with a home video release to follow.
For Sentai Filmworks' latest announcements regarding this and other great titles, be sure to like us on Facebook and follow us on Twitter.
About Sentai Filmworks, LLC
Sentai Filmworks is a leading global supplier of anime and official anime merchandise, distributing and curating one of the industry's most diverse libraries of top trending and classic titles. Offering thousands of hours of content across both traditional and digital platforms, Sentai is dedicated to bringing captivating stories and iconic characters directly from Japan. With hit series that include Parasyte –the maxim–, No Game, No Life, Food Wars!, Is it Wrong to Try to Pick Up Girls in a Dungeon?, and Akame Kill!, Sentai's catalog continues to grow with new favorites like Himouto! Umaru-chan and Monster Musume: Everyday Life with Monster Girls, as well as classic anime series such as Legend of the Galactic Heroes. For more information, visit www.sentaifilmworks.com.