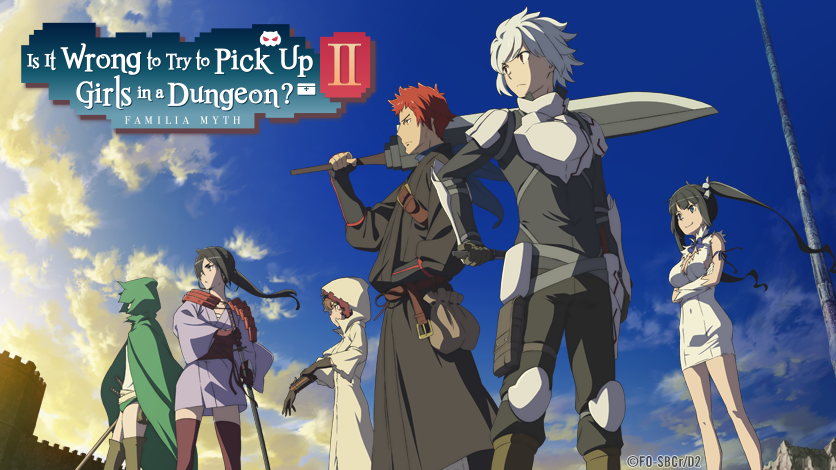 Sentai Filmworks Set to Tease New Season of Hit Series "Is It Wrong to Try to Pick Up Girls in the Dungeon?" at Anime Expo 2019
---
HOUSTON, TX — June 7, 2019 — Sentai Filmworks today announced a planned sneak preview of the highly anticipated second season of Is It Wrong to Try to Pick Up Girls in a Dungeon? as part of an exclusive event at Anime Expo 2019. The first episode of the new series is set to premiere July 5, 11:30 AM in Main Events Hall B. This special event is a prelude to Sentai Filmworks' wider rollout of the series on select digital outlets later the same month.
The exciting follow-up to the first season of Is It Wrong to Try to Pick Up Girls in a Dungeon? is produced by J.C. Staff (Food Wars!, Familiar of Zero, Waiting in the Summer) and is based upon the light novel series created by Fujino Omori. Season 2 follows Bell and Hestia on a new adventure, beginning with events covered in the sixth light novel volume.
"When we launched the original series, Is It Wrong to Try to Pick Up Girls in a Dungeon?, to anime fans in 2015, we knew it was going to be tremendous pop culture force because of its unique mix of irreverence, lovable, relatable characters and fantastic story-telling," said John Ledford, CEO of Sentai Filmworks. "Audiences have been clamoring for a thrilling, direct follow-up ever since and the new series won't disappoint."
The latest series heralds the return of fan favorites from the original series along with all-new characters to meet and love. The expanded cast features Ryota Osaka (Haikyu!! Second Season, Knights of Sidonia) as the sun god, Apollo, along with Haruka Chisuga (Amagi Brilliant Park, SHIROBAKO) as prisoner, Sanjouno Haruhime and Akeno Watanabe (Witch Hunter Robin, To Love Ru) as the altruist Aisha Belka. Members of Apollo's Familia include KENN (Space Brothers, Beyond the Boundary) as Hyakinthos Clio, Wakana Kowaka as Daphne Lauros and Ayumi Mano (Black Clover, Date a Live III) as Cassandra Ilion.
The series will be available Summer 2019 to stream on select digital outlets with a home video release to follow.
For Sentai Filmworks' latest announcements regarding this and other great titles, be sure to like us on Facebook and follow us on Twitter.
About Sentai Filmworks, LLC
Sentai Filmworks is a leading global supplier of anime and official anime merchandise, distributing, and curating one of the industry's most diverse libraries of top trending and classic titles. Offering thousands of hours of content across both traditional and digital platforms, Sentai is dedicated to bringing captivating stories and iconic characters directly from Japan. In addition to Is It Wrong to Try to Pick Up Girls in a Dungeon? and Sword Oratoria, Sentai Filmworks' hit series include MADE IN ABYSS, Land of the Lustrous, The Big O, and Parasyte -the maxim-. Sentai's catalog continues to grow with new favorites like Domestic Girlfriend, Princess Principal, and Bloom Into You, as well as classic anime series such as Legend of the Galactic Heroes. For more information, visit www.sentaifilmworks.com.
###