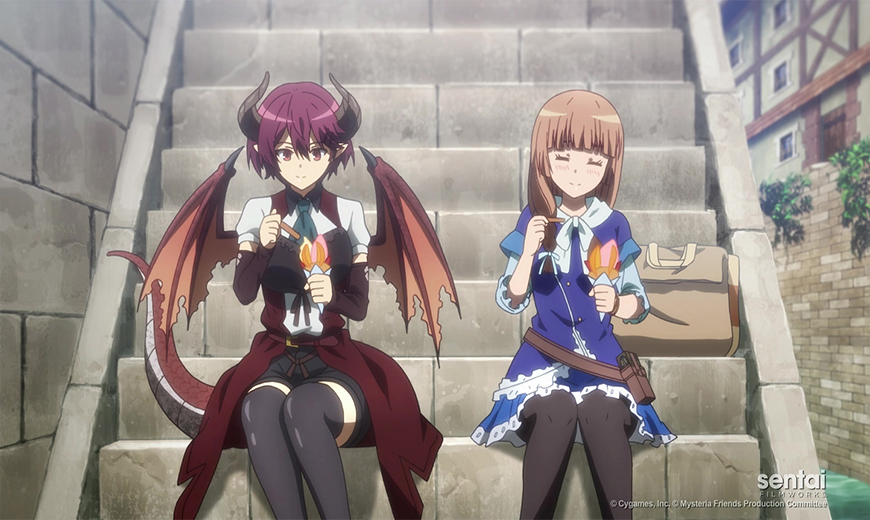 Sentai Filmworks Snaps Up "Mysteria Friends" Series Adapted from Cygames Hit Franchise
---
HOUSTON, TX, November 16, 2018 – Sentai Filmworks announced today that it acquired worldwide rights, excluding Asia, to Mysteria Friends, the long-awaited animated series produced by Cygames Pictures and adapted from the popular Mysteria Academy event featured in the Rage of Bahamut mobile game. The highly anticipated original storyline unlocks the secrets of the Mysteria Magic Academy where humans, gods, and demons mingle freely.
Mysteria Friends spotlights fan favorite characters, Anne, the runaway royal, and Grea, the dragon-born girl, voiced by Yoko Hikasa (Is It Wrong to Try to Pick Up Girls in a Dungeon? and GATE) and Ayaka Fukuhara (Trinity Seven and Battle Girl High School).
Mysteria Friends premieres on select streaming platforms beginning January 2019.
For updates regarding Mysteria Friends and other Sentai Filmworks' titles, be sure to like us on Facebook and follow us on Twitter.
About Sentai Filmworks, LLC
Sentai Filmworks is a leading global supplier of anime and official anime merchandise, distributing, and curating one of the industry's most diverse libraries of top trending and classic titles. Offering thousands of hours of content across both traditional and digital platforms, Sentai is dedicated to bringing captivating stories and iconic characters directly from Japan. With hit series that include MADE IN ABYSS, Land of the Lustrous, Big O, and Akame ga Kill!, Sentai's catalog continues to grow with new favorites like Sword Oratoria: Is it Wrong to Try to Pick Up Girls in a Dungeon? On the Side, Princess Principal, and FLIP FLAPPERS, as well as classic anime series such as Legend of the Galactic Heroes. For more information, visit www.sentaifilmworks.com.
###