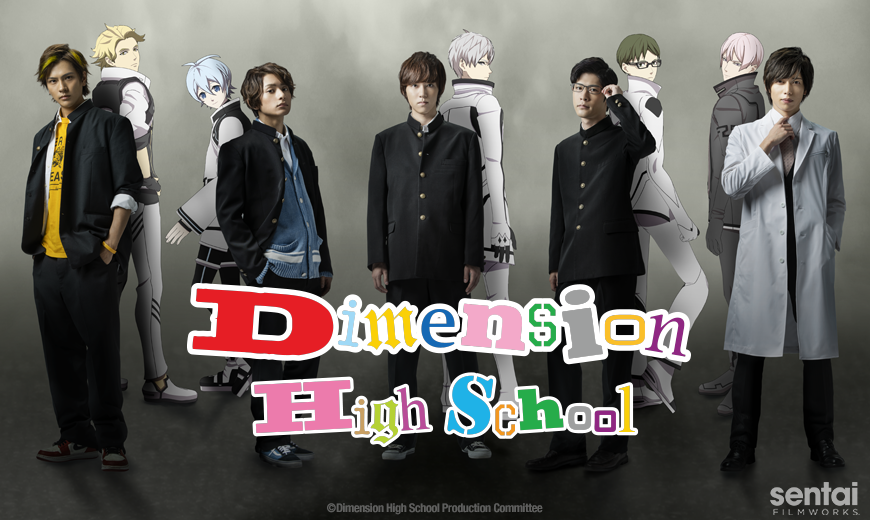 Sentai Filmworks Teleports to "Dimension High School"
HOUSTON, TX, January 5, 2019 – Sentai Filmworks announced today that it acquired exclusive rights to the ambitious live-action/anime hybrid series, Dimension High School, for the United States, Canada, the United Kingdom, Ireland, South Africa, Australia, New Zealand, Spain, Portugal and other select territories.
One day, on his way to high school, student Junpei picks up an unusual looking rock. Thinking nothing of it, he heads to class. While in the middle of a session, the rock comes to life and transports him and four others to an animated world! To make matters more interesting, the group is introduced to a giant sphinx who is determined to take over the world! Now, to protect their world from invasion, the group must work together as anime characters and real-world humans!
Yuichi Abe (The Girl in Twilight, Examurai Sengoku) will direct the experimental series while Izumi (Touken Ranbu-ONLINE-) is handling the character designs. The Japanese actors and voice cast include Takahide Ishii (Cute High Earth Defense Club HAPPY KISS!) as Junpei Shiroyama, Takeo Otsuka (Flavors of Youth, Run with the Wind) as Ryusei Midorigaoka, Shohei Hashimoto (The Royal Tutor) as Yurio Mizukami, Takuma Zaiki as Tsuyoshi Kikawada and Toshiyuki Someya (Bakumatsu, MAR­GINAL #4 the Animation) as Soshi Momoya.
The series will soon be available for the Winter 2019 simulcast season to stream on select digital outlets with a home video release to follow.
For Sentai Filmworks' latest announcements regarding this and other great titles, be sure to like us on Facebook and follow us on Twitter.
About Sentai Filmworks, LLC
Sentai Filmworks is a leading global supplier of anime and official anime merchandise, distributing, and curating one of the industry's most diverse libraries of top trending and classic titles. Offering thousands of hours of content across both traditional and digital platforms, Sentai is dedicated to bringing captivating stories and iconic characters directly from Japan. With hit series that include MADE IN ABYSS, Land of the Lustrous, MONSTER MUSUME Everyday Life with Monster Girls, and Parasyte -the maxim-, Sentai's catalog continues to grow with new favorites like Bloom Into You, Revue Starlight and DEVILS' LINE, as well as classic anime series such as Legend of the Galactic Heroes and The Big O. For more information, visit www.sentaifilmworks.com.
###