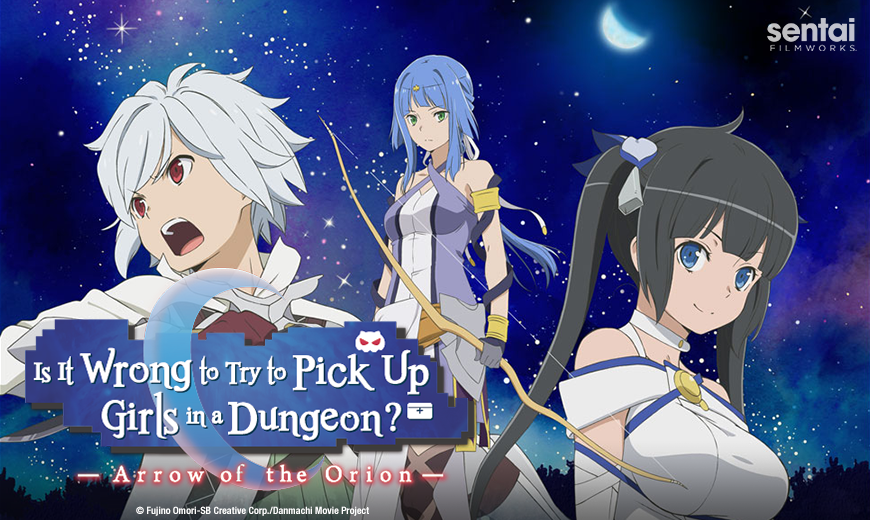 Sentai Filmworks to Host Original Creator and Producers of "Is It Wrong to Try to Pick Up Girls in a Dungeon?" at Anime Expo 2019 for Feature Film Premiere and Exclusive Q&A
---
HOUSTON, TX – June 11, 2019 – Sentai Filmworks today announced that original creator Fujino Omori and anime producers Nobuhiro Osawa and Yuji Matsukura will join audiences for the exclusive premiere of Is It Wrong to Try to Pick Up Girls in a Dungeon?: Arrow of the Orion at Anime Expo 2019. There they will participate in a special Q&A session following the screening. Omori, Osawa and Matsukura are among the key creative forces behind the immensely popular anime adaptation of Is It Wrong to Try to Pick Up Girls in a Dungeon?, based on the light novel series written by Fujino Omori.
Fujino Omori is the author and creator of the best-selling Is it Wrong to Try to Pick Up Girls in a Dungeon? light novel series as well as the scriptwriter of Arrow of the Orion. The original light novel sold over 12 million copies and has received multiple manga and anime adaptations over the course of its 15-volume run. Initially titled Familia Myth, Omori submitted the story for consideration in the 4th GA Bunko Award, where the work won the competition's Grand Prize. The series won first place in the 2016 2016 SUGOI JAPAN Awards and is published in English by Yen Press.
Yuji Matsukura is an Executive officer and the Chief of the Production Division at J.C.STAFF animation studio. In his 20s, an exceptionally young age, he worked as a producer on the revered Revolutionary Girl Utena anime. Since then, he has produced a wealth of hit series, including Food Wars, Is It Wrong to Try to Pick Up Girls in a Dungeon?, A Certain Magical Index, Hi Score Girl, One Punch Man and many more.
Nobuhiro Osawa is the Representative Director and Producer at EGG FIRM, an anime production company. He is the Series Chief Producer for Sword Art Online and the Series Producer for Is It Wrong to Try to Pick Up Girls in a Dungeon? and The Disastrous Life of Saiki K. As a producer, he has been involved in many TV anime series and has worked on planning drafts, fundraising, overseeing production schedules, and even business development for many anime series.
Sentai Filmworks is thrilled to provide eager fans with a chance to meet the creative minds behind Is It Wrong to Try to Pick Up Girl in a Dungeon? and Is It Wrong to Try to Pick Up Girls in a Dungeon?: Arrow of the Orion at this year's Anime Expo. The premiere of Arrow of the Orion is scheduled for July 4, 2019, at 1:30 PM and will feature a Q&A with guests after the film.
For Sentai Filmworks' latest announcements regarding this and other great titles, be sure to like us on Facebook and follow us on Twitter.
About Sentai Filmworks, LLC
Sentai Filmworks is a leading global supplier of anime and official anime merchandise, distributing, and curating one of the industry's most diverse libraries of top trending and classic titles. Offering thousands of hours of content across both traditional and digital platforms, Sentai is dedicated to bringing captivating stories and iconic characters directly from Japan. With hit series that include MADE IN ABYSS, Land of the Lustrous, MONSTER MUSUME Everyday Life with Monster Girls and Parasyte -the maxim-, Sentai's catalog continues to grow with new favorites like Bloom Into You, Revue Starlight and DEVILS' LINE, as well as classic anime series such as Legend of the Galactic Heroes and The Big O. For more information, visit www.sentaifilmworks.com.
###