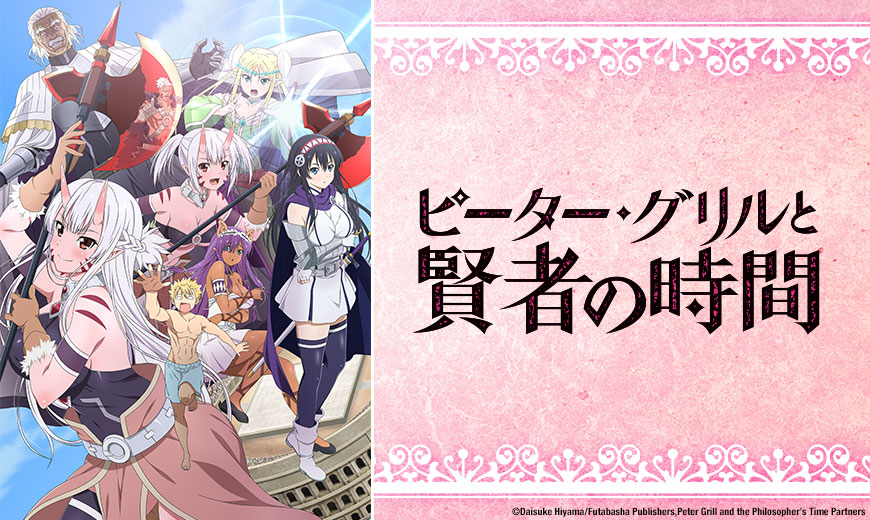 Sentai Hooks Up with "Peter Grill and the Philosopher's Time"
---
HOUSTON, TX — July 2, 2020 — Sentai announced today that it acquired libidinous, laugh-out-loud anime series Peter Grill and the Philosopher's Time, based on Daisuke Hiyama's manga of the same name, under a global licensing deal (excluding Asia).
Peter Grill is the world's strongest fighter, but his ascent to the top came with an unexpected consequence: Women around the world, human and monster alike, want to bear his genetically superior children! Since he's currently engaged to the love of his life, Peter isn't too keen on his sudden popularity, and it will take every ounce of self-control for Peter to keep his hands to himself and his relationship with his paramour in one piece in the outrageously irreverent Peter Grill and the Philosopher's Time.
Produced by Studio Wolfsbane and directed by Tatsumi, Peter Grill and the Philosopher's Time stars Hiro Shimono (Log Horizon, Nagasarete Airantou, Demon Slayer) as Peter Grill, Ayana Taketatsu (The World God Only Knows, Queen's Blade Rebellion, MM!) as Mimi Alpacas, Hibiku Yamamura (Frame Arms Girl, The Magnificent KOTOBUKI, Sagrada Reset) as Lisa Alpacas and Sayaka Sembongi (DOREIKU: The Animation, Ahiru no Sora, Kabaneri of the Iron Fortress) as Piglette Pancetta.
The series will be available on select streaming outlets in Summer 2020 with a home video release to follow.
For Sentai's latest announcements regarding this and other great titles, be sure to like us on Facebook and follow us on Twitter.
About Sentai
A Cool Japan Fund portfolio company, Sentai is a leading global supplier of anime and official anime merchandise, distributing and curating one of the industry's most diverse libraries of top trending and classic titles. Sentai offers thousands of hours of content across both traditional and digital platforms and is dedicated to bringing captivating stories and iconic characters directly from Japan to screens big and small. With hit series that include MADE IN ABYSS, Food Wars!, Princess Tutu and Parasyte -the maxim-, Sentai's catalog continues to grow with new favorites like Bloom Into You, Revue Starlight and O Maidens in Your Savage Season, as well as classic anime series such as Legend of the Galactic Heroes and The Big O. For more information, visit www.sentaifilmworks.com.
###