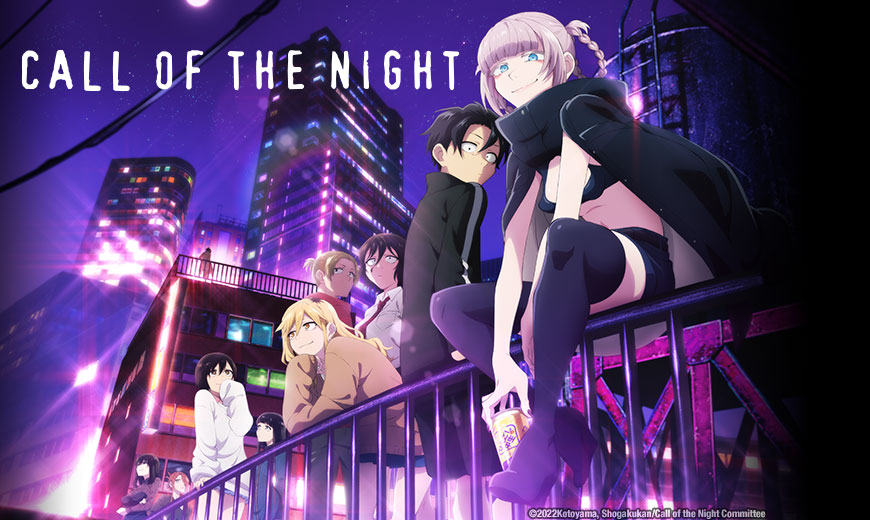 Sentai Picks Up Boy-Meets-Vampire Anime Series "Call of the Night"
---
HOUSTON, TX — May 28, 2022 — Sentai announced today that it acquired exclusive rights to Call of the Night, the highly anticipated anime adaptation of the popular vampire-themed shounen manga of the same name. The manga, written and illustrated by Kotoyama, is serialized in hit-making publisher Shogakukan's Weekly Shonen Sunday magazine and has sold more than 2 million volumes. Sentai will stream the series exclusively on HIDIVE, its direct-to-consumer streaming service, to multiple countries across the globe beginning Summer 2022.
Wracked by insomnia and wanderlust, Ko Yamori is driven onto the moonlit streets every night in an aimless search for something he can't seem to name. His nightly ritual is marked by purposeless introspection — until he meets Nazuna, who might just be a vampire! Ko's new companion could offer him dark gifts and a vampire's immortality. But there are conditions that must be met before Ko can sink his teeth into vampirism, and he'll have to discover just how far he's willing to go to satisfy his desires before he can heed the Call of the Night!
At the time of this writing, the trailer for Call of the Night has earned 5.4 million views since its debut on YouTube in November, 2021. Animated by LIDENFILMS (Blade of the Immortal, Kotaro Lives Alone, Tokyo Revengers), Call of the Night is directed by Tomoyuki Itamura (Puella Magi Madoka Magica, The Case Study of Vanitas, Bakemonogatari). Michiko Yokote (Teasing Master Takagi-san, Cowboy Bebop, Bleach) penned the series' script. Character designs are provided by Haruka Sagawa (key animator for Love, Chunibyo and Other Delusions, Nichijou and Kill la Kill).
The series stars Sora Amamiya (Akame ga Kill!, Tokyo Ghoul, Seven Deadly Sins) as Nazuna Nanakusa, Gen Sato (Dr. Stone, Bottom-Tier Character Tomozaki, Pretty Boy Detective Club) as Ko Yamori and Yumiri Hanamori (Grimoire of Zero, Laid-Back Camp, Smile Down the Runway) as Akira Asai.
Call of the Night will premiere exclusively on HIDIVE during the Summer 2022 simulcast season, with a home video release to follow.
For Sentai's latest announcements regarding this and other great titles, be sure to like us on Facebook and follow us on Twitter.
About Sentai
Sentai is a leading global supplier of anime content and official merchandise dedicated to bringing captivating stories and iconic characters directly from Japan. Sentai's brands include HIDIVE (direct-to-consumer streaming), SentaiFilmworks.com (direct to consumer E-Commerce), Anime Network (Cable SVOD) and Sentai Studios (localization and studio services). Sentai's diverse library includes thousands of hours of hit titles and classic series including MADE IN ABYSS, Akame ga Kill, Food Wars!, Clannad, Is it Wrong to Try to Pick Up Girls in a Dungeon?, High School of the Dead, Girls & Panzer, No Game No Life, K-On!, Assassin's Pride and Parasyte -the maxim-.
###