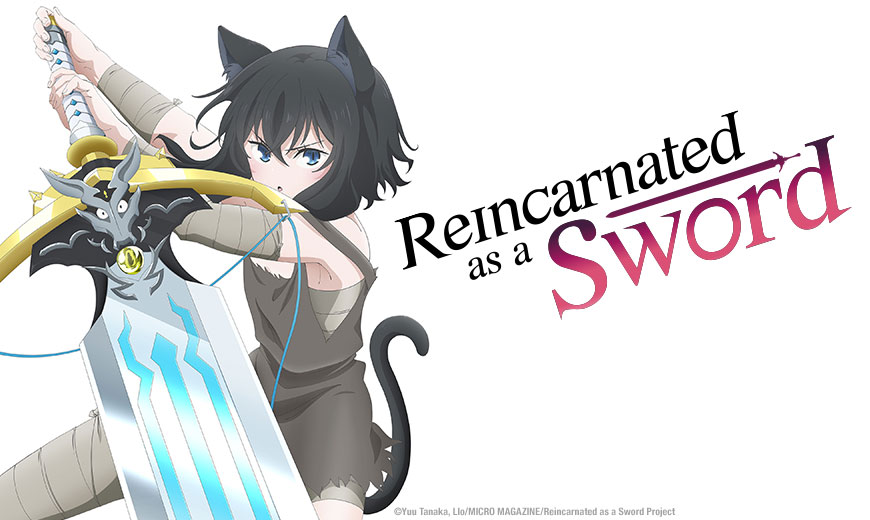 Sentai Picks Up "Reincarnated as a Sword" Anime for Fall 2022 Simulcast
---
HOUSTON, TX — July 2, 2022 — Sentai announced today that it acquired exclusive rights to Reincarnated as a Sword, the genre-bending isekai anime series based on the light novels by Yu Tanaka, for audiences worldwide (excluding Asia). Tentatively planned as a Fall 2022 simulcast, the series will premiere exclusively on HIDIVE and its anime-focused streaming services.
Some isekai protagonists are reincarnated as powerful warriors or skilled wizards, but our protagonist was reborn in another life as a sentient sword! He's taken up by Fran, a desperate girl fleeing evil-doers intent on selling her into slavery. With her new weapon's help and guidance, she's able to strike down her captors and secure her freedom. Together, this unconventional master-student duo embark on an epic journey to liberate those in need and exact justice on the cruel of heart.
The Reincarnated as a Sword light novel series upon which the anime is based began as a web novel on the Shousetsuka ni Narou site, with over 2 million copies sold and 250,000 daily views. The series comprises 12 novels published by GC Novels (publisher of That Time I Got Reincarnated as a Slime), a manga adaptation published by Gentosha, and a spin-off manga series in Micro Magazine.
The Reincarnated as a Sword anime series is produced by C2C (Tsukimichi -Moonlit Fantasy-, Wandering Witch: The Journey of Elaina, WorldEnd: What do you do at the end of the world? Are you busy? Will you save us?) and directed by Shinji Ishihara (Log Horizon, Fairy Tail, Sasaki and Miyano). The illustrator of the light novels, LLO (Unbreakable Machine-Doll, Oreshura, Mushi-Uta), provides original character design. Yasuharu Takanashi (Log Horizon, Zombieland Saga: Revenge, Mononoke) provides the series' music.
The series stars Ai Kakuma (Amagi Brilliant Park, Monster Musume: Everyday Life with Monster Girls, Mushoku Tensei: Jobless Reincarnation) as Fran and Shinichiro Miki (Fullmetal Alchemist: Brotherhood, Pokémon, Nisemonogatari) as Shishou.
Reincarnated as a Sword will premiere exclusively on HIDIVE in Fall 2022 (tentative) with a home video release to follow.
For Sentai's latest announcements regarding this and other great titles, be sure to like us on Facebook and follow us on Twitter.
About Sentai
Sentai is a leading global supplier of anime content and official merchandise dedicated to bringing captivating stories and iconic characters directly from Japan. Sentai's brands include HIDIVE (direct-to-consumer streaming), SentaiFilmworks.com (direct to consumer E-Commerce), Anime Network (Cable SVOD) and Sentai Studios (localization and studio services). Sentai's diverse library includes thousands of hours of hit titles and classic series including MADE IN ABYSS, Ya Boy Kongming!, Akame ga Kill, Food Wars!, Clannad, The Executioner and Her Way of Life, Is it Wrong to Try to Pick Up Girls in a Dungeon?, High School of the Dead, Girls & Panzer, No Game No Life, K-On!, I'm Quitting Heroing and Parasyte -the maxim-.
###