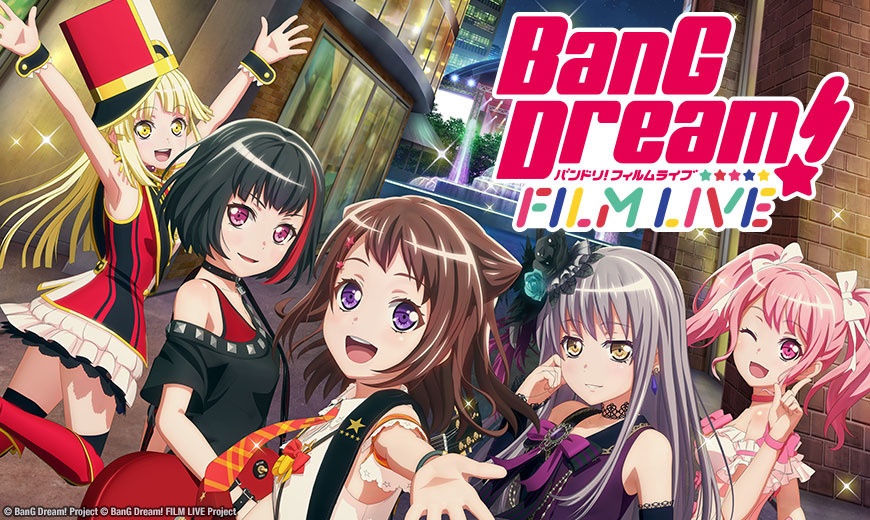 Sentai Set to Rock Audiences with "BanG Dream! FILM LIVE"
---
HOUSTON, TX — August 26, 2020 — Sentai announced today that it acquired rights to BanG Dream! FILM LIVE, the concert movie extravaganza based on Bushiroad's popular BanG Dream! multimedia franchise. The film's release schedule will include traditional bookings at select cinemas as well as virtual screenings for audiences at home.
The bands of BanG Dream!, including Poppin'Party, Roselia and other fan favorites, are back in action and they're ready to rock the world in this feature length music-driven spectacle! Join the bands as they take to the stage and perform their greatest hits in this exciting, star-studded and dreamy musical experience. Be sure to fire up the light sticks and sing along in the ultimate celebration of the music of BanG Dream!
The concert film is produced by studio SANZIGEN (BanG Dream!) and stars Aimi (Hentai Prince & the Stony Cat) as Kasumi Toyama of Poppin'Party, Hisako Kanemoto (Kokoro Connect) as Tsugumi Hazawa of Afterglow, Ami Maeshima (Pastel Life) as Aya Maruyama of Pastel*Palettes, Haruka Kudo (The World is Still Beautiful) as Sayo Hikawa of Roselia and Yuri Yoshida (Engaged to the Unidentified) as Hagumi Kitazawa of Hello, Happy World!
For Sentai's latest announcements regarding this and other great titles, be sure to like us on Facebook and follow us on Twitter.
About Sentai
A Cool Japan Fund portfolio company, Sentai is a leading global supplier of anime and official anime merchandise, distributing and curating one of the industry's most diverse libraries of top trending and classic titles. Sentai offers thousands of hours of content across both traditional and digital platforms and is dedicated to bringing captivating stories and iconic characters directly from Japan. With hit series that include MADE IN ABYSS, Food Wars!, Princess Tutu and Parasyte -the maxim-, Sentai's catalog continues to grow with new favorites like Bloom Into You, Revue Starlight and O Maidens in Your Savage Season, as well as classic anime series such as Legend of the Galactic Heroes and The Big O. For more information, visit www.sentaifilmworks.com.
###