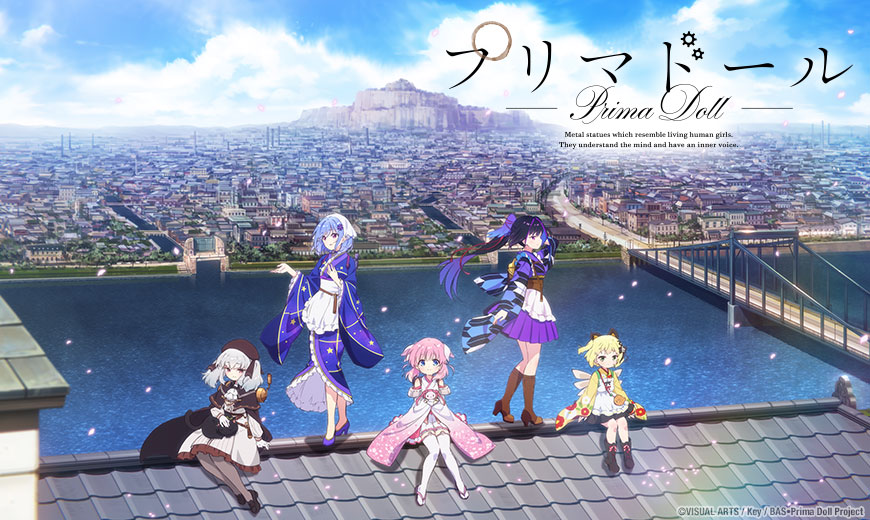 Sentai Snaps Up "Prima Doll" for Summer 2022
---
HOUSTON, TX — June 9, 2022 — Sentai announced today that it acquired exclusive rights to Prima Doll, the anime adaptation of acclaimed visual novel studio Key's multimedia franchise of the same name, for audiences worldwide (excluding Asia). Sentai will premiere the series exclusively on HIDIVE, its direct-to-consumer streaming service, during the Summer 2022 simulcast season.
Café "Kuronekotei" boasts an unusual roster of employees. A group of automata, or autonomous mechanical dolls, serve their patrons with a smile, but they weren't always so suited to domestic life. Just a few years prior, automata served as weapons in the great war, fulfilling the bloody purpose for which they were created. Now that the war has ended, these machines with human hearts search for their place in an unfamiliar, peaceful world — and their search begins at the Kuronekotei café.
Prima Doll is animated by Bibury Animation Studios (Grisaia: Phantom Trigger, The Quintessential Quintuplets 2, Black Rock Shooter: Dawn Fall) and is directed by TENSHO (The Fruit of Grisaia, Azur Lane, Rewrite). Studio Key's beloved works include CLANNAD, Kanon, Angel Beats! and more. Makoto Ishiwata (Obsolete, Psycho-Pass, Gargantia on the Verdurous Planet) provides mechanical design. Akane Yano (Bottom-Tier Character Tomozaki, And you thought there is never a girl online?, CHOYOYU!: High School Prodigies Have It Easy Even in Another World!) serves as chief animation director and character designer.
The series stars Azumi Waki (The Helpful Fox Senko-san, How Not to Summon a Demon Lord, Blend S) as Haizakura, Tomori Kusunoki (Wonder Egg Priority, The Misfit of Demon King Academy, Sword Art Online Alternative: Gun Gale Online) as Karasuba, Miyu Tomita (MADE IN ABYSS, Kaguya-sama: Love Is War, Dorohedoro) as Gekka, Yuki Nakashima (BanG Dream! 2nd Season, Yu-Gi-Oh! VRAINS, Usakame) as Hokiboshi and Akari Kito (Demon Slayer, Classroom of the Elite, Toilet-bound Hanako-kun) as Retzel.
Prima Doll will premiere exclusively on HIDIVE in Summer 2022 with a home video release to follow.
For Sentai's latest announcements regarding this and other great titles, be sure to like us on Facebook and follow us on Twitter.
About Sentai
Sentai is a leading global supplier of anime content and official merchandise dedicated to bringing captivating stories and iconic characters directly from Japan. Sentai's brands include HIDIVE (direct-to-consumer streaming), SentaiFilmworks.com (direct to consumer E-Commerce), Anime Network (Cable SVOD) and Sentai Studios (localization and studio services). Sentai's diverse library includes thousands of hours of hit titles and classic series including MADE IN ABYSS, Akame ga Kill, I'm Quitting Heroing, Food Wars!, Clannad, Is it Wrong to Try to Pick Up Girls in a Dungeon?, High School of the Dead, Girls & Panzer, No Game No Life, K-On!, Ya Boy Kongming! and Parasyte -the maxim-.
###