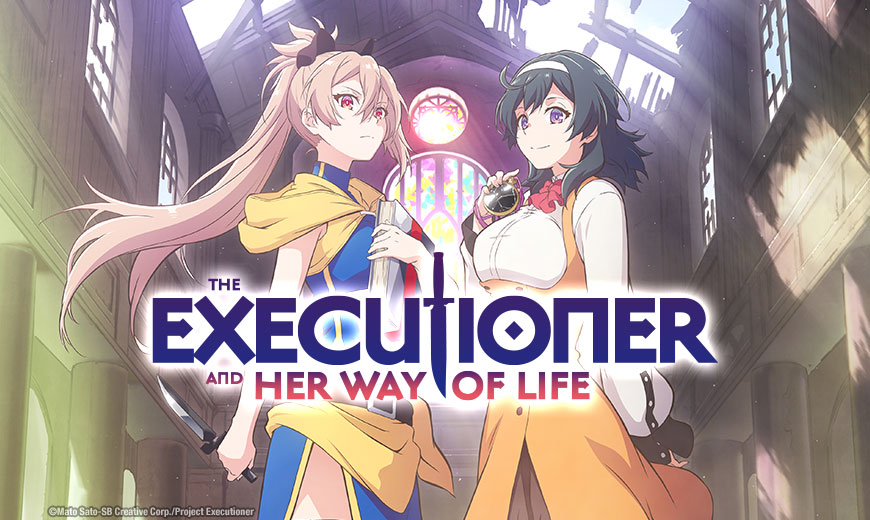 Sentai Snaps Up "The Executioner and Her Way of Life"
---
HOUSTON, TX — March 10, 2022 — Sentai announced today that it acquired exclusive global rights (excluding Asia) to fantasy series The Executioner and Her Way of Life, based on the award-winning yuri light novel by Mato Sato.
When interdimensional travelers from an otherworldly land known as "Japan" appear, they often bring death and destruction. It's up to Executioners like Menou to track and exterminate the Lost Ones before they wreak havoc. When Menou encounters a beguiling Lost One named Akari, it's bloody business as usual… until Menou discovers Akari can cheat death, that is. Even so, Menou has a job to do, and she is committed to her executioner's mission come hell or high water — provided her newly stirring feelings don't get in the way.
Produced by J.C.Staff (Is it Wrong to Try to Pick Up Girls in a Dungeon?, The Demon Girl Next Door, Food Wars!), the series is directed by Yoshiki Kawasaki (assistant director, Ascendance of a Bookworm) with series composition from Shogo Yasukawa (Chivalry of a Failed Knight, Jojo's Bizarre Adventure, A Certain Scientific Railgun T). Michiru (Mitsuboshi Colors, KOKKOKU, Given) provides the series' musical score. Mili (Ghost in the Shell: SAC_2045, Goblin Slayer, Gleipnir) performs the OP, "Paper Bouquet," while ChouChou (Girls und Panzer, Tsurune, Fate/kaleid liner Prisma Illya) sings the ending theme, "Touka Serenade."
The series stars Iori Saeki (Nekopara, ORESUKI Are you the only one who loves me?, Adachi and Shimamura) as Menou and Moe Kahara (How a Realist Hero Rebuilt the Kingdom) as Akari Tokito. The Executioner and Her Way of Life light novel was awarded the grand prize at the GA Bunko Awards in 2018. The light novel series is published in English by Yen Press.
Sentai will stream The Executioner and Her Way of Life anime exclusively on HIDIVE, its direct-to-consumer streaming service, with a home video release to follow.
For Sentai's latest announcements regarding this and other great titles, be sure to like us on Facebook and follow us on Twitter.
About Sentai
Sentai is a leading global supplier of anime content and official merchandise dedicated to bringing captivating stories and iconic characters directly from Japan. Sentai's brands include HIDIVE (direct-to-consumer streaming), SentaiFilmworks.com (direct to consumer E-Commerce), Anime Network (Cable SVOD) and Sentai Studios (localization and studio services). Sentai's diverse library includes thousands of hours of hit titles and classic series including MADE IN ABYSS, Akame ga Kill, Food Wars!, Clannad, Is it Wrong to Try to Pick Up Girls in a Dungeon?, High School of the Dead, Girls & Panzer, No Game No Life, K-On!, Assassin's Pride and Parasyte -the maxim-.
###