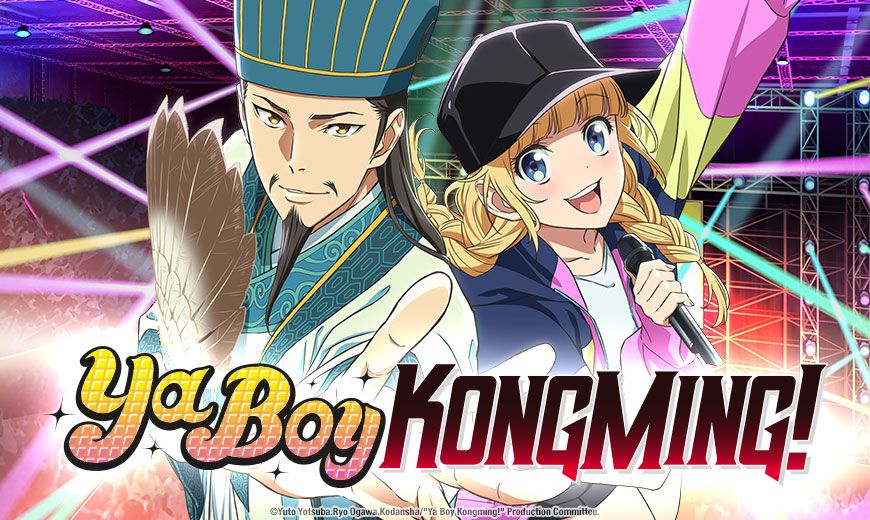 Sentai Snaps Up "Ya Boy Kongming!"
---
HOUSTON, TX — February 17, 2022 — Sentai announced today that it has acquired exclusive worldwide rights (excluding Asia) to Ya Boy Kongming!, the anime adaptation of Yuto Yotsuba's comedy manga, Paripi Kōmei.
Fate and reincarnation deliver brilliant military strategist, Kongming, from warring, ancient China to Japan's modern party hot spot in Shibuya City, Tokyo. After a lifetime of battles and military skirmishes, Kongming wished with his last breath to be reborn in a world of peace and prosperity. It's nearly two millennia later and he's finding his way in a very different world than that of his past life. When he meets Eiko, an amateur musician with big dreams, the unlikely duo strikes up an even unlikelier friendship. Eiko has street smarts to help Kongming navigate this strange new world, and Kongming will use his strategic mind to help Eiko achieve stardom! The story is a clever take (and smart twist) on fish-out-of-water and person-out-of-time themes with out-of-this-world results for Ya Boy Kongming!
The series stars Kaede Hondo (Zombieland Saga, Wandering Witch: The Journey of Elaina, BOFURI: I Don't Want to Get Hurt, so I'll Max Out My Defense.) as Eiko Tsukimi and Ryotaro Okiayu (CLANNAD, Bleach, Fullmetal Alchemist: Brotherhood) as Kongming Zhuge.
Ya Boy Kongming! is animated by P.A. Works and directed by Osamu Honma (episode director for Golden Time, IRODUKU: The World in Colors). The theme song is performed by 96neko (Flying Witch, Scum's Wish, Heaven's Design Team) while Genki Hikota (Hitorijime My Hero, YuriIII on Ice) provides the series' music. Masahiro Murakami (Moribito: Guardian of the Spirit, Princess Mononoke, Ghost in the Shell: Stand Alone Complex) is in charge of special effects. Kodansha USA handles the Ya Boy Kongming! manga series' English-language release.
Sentai will stream Ya Boy Kongming! exclusively on HIDIVE, its direct-to-consumer streaming service, with a home video release to follow.
For Sentai's latest announcements regarding this and other great titles, be sure to like us on Facebook and follow us on Twitter.
About Sentai
Sentai is a leading global supplier of anime content and official merchandise dedicated to bringing captivating stories and iconic characters directly from Japan. Sentai's brands include HIDIVE (direct-to-consumer streaming), SentaiFilmworks.com (direct to consumer E-Commerce), Anime Network (Cable SVOD) and Sentai Studios (localization and studio services). Sentai's diverse library includes thousands of hours of hit titles and classic series including MADE IN ABYSS, Akame ga Kill, Food Wars!, Clannad, Is it Wrong to Try to Pick Up Girls in a Dungeon?, High School of the Dead, Girls & Panzer, No Game No Life, K-On!, Assassin's Pride and Parasyte -the maxim-.
###