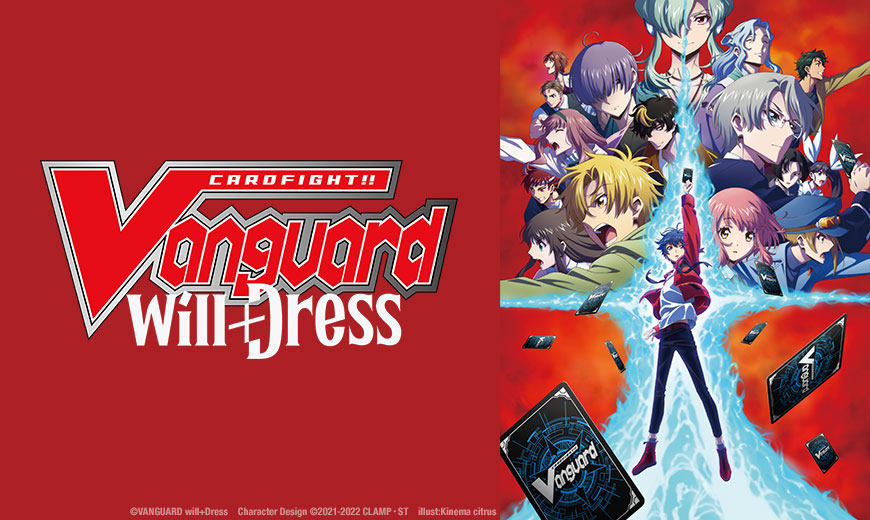 Sentai Stacks Summer Deck with CARDFIGHT!! VANGUARD will+Dress
---
HOUSTON, TX — July 1, 2022 — Sentai announced today that it acquired rights to CARDFIGHT!! VANGUARD will+Dress, the follow-up to the 2021's CARDFIGHT!! VANGUARD overDress series, for select English-speaking countries including USA, Canada, UK, Australia and New Zealand, for select Spanish-speaking Latin American countries, and for select Nordic countries. The series will stream on HIDIVE as part of the Summer 2022 simulcast season, where fans can enjoy both series.
From trading card and collectibles hitmaker, Bushiroad (Revue Starlight, BanG Dream!), and with production by Kinema citrus (MADE IN ABYSS, Star Wars: Visions), Gift-o'-Animation, and STUDIO JEMI, this latest installment of the Cardfight!! Vanguard franchise is sure to deliver as it adds more than a dozen new players to the mix. Teen runaway, Yu-yu, whose empathy is matched only by his inability to say no to others, meets Megumi Okura. Megumi invites him to a mysterious destination, Dreamland Wonder Hill amusement park. There, he discovers intensely competitive groups like Team Blackout gather to play an exhilarating and alluring game called Vanguard. Yu-yu is drawn into this world of high stakes competition where he must balance new friendships against his drive for victory.
The Japanese production team includes director, Satoshi Mori (The Rising of the Shield Hero monster designer) and assistant director, Ryutaro Suzuki (Revue Starlight movie unit director) together with Hiroyuki Saita (Revue Starlight character designer) as character designer and chief animation director. Scripting is helmed by Natsuko Takahashi and Satoshi Mori. The series draws on character designs by CLAMP.
The seiyuu cast includes Shouta Aoi as Yu-yu Kondo, Yuki Ono as Danji Momoyama, Yuma Uchida as Tohya Ebata, Amane Shindo as Megumi Okura, Masahiro Ito as Zakusa Ishigame, Hikaru Tono as Tomari Seto and Yuki Nakashima as Mirei Minae.
Sentai will stream CARDFIGHT!! VANGUARD will+Dress on HIDIVE.
For Sentai's latest announcements regarding this and other great titles, be sure to like us on Facebook and follow us on Twitter.
About Sentai
Sentai is a leading global supplier of anime content and official merchandise dedicated to bringing captivating stories and iconic characters directly from Japan. Sentai's brands include HIDIVE (direct-to-consumer streaming), SentaiFilmworks.com (direct to consumer E-Commerce), Anime Network (Cable SVOD) and Sentai Studios (localization and studio services). Sentai's diverse library includes thousands of hours of hit titles and classic series including MADE IN ABYSS, Akame ga Kill, Food Wars!, Clannad, Is it Wrong to Try to Pick Up Girls in a Dungeon?, High School of the Dead, Girls & Panzer, No Game No Life, K-On!, Assassin's Pride and Parasyte -the maxim-.
###