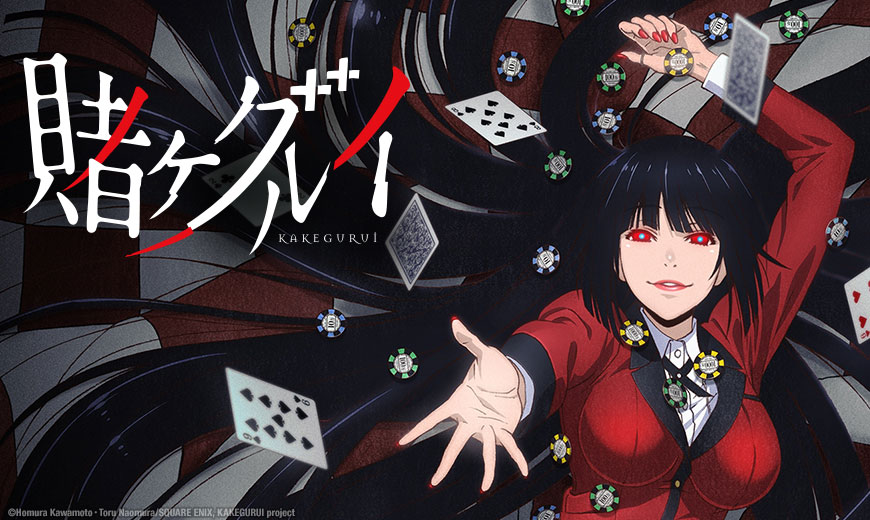 Sentai Stacks the Deck with "Kakegurui"
---
HOUSTON, TX — August 20, 2021 — Sentai announced today that it acquired Kakegurui, the beguilingly original thriller anime series that wraps a dangerous world of high-stakes underground gambling in stylish visuals. Sentai will distribute the series to audiences in the United States, Canada and Latin America.
During daylight hours, an exclusive, elite private school prepares its illustrious students for careers in business, politics, and high society. But when darkness falls, the halls of this esteemed establishment transform into an underground gambling den where bright-eyed youngsters learn the timeless art of bluffing, backdoor dealings and social manipulation. In this school for the rich and elite, money is power, and the tyrant of the betting books rules with an iron fist. So when the beautiful Yumeko Jabami upsets the academy hierarchy with her voracious appetite for the thrill of the gamble, the entire student body mobilizes to send her house of cards tumbling down.
Produced by studio MAPPA (Dororo, Kids on the Slope, Jujutsu Kaisen), Kakegurui is directed by Yuichiro Hayashi (Attack on Titan Final Season, Dorohedoro, GARO: The Animation) and Kiyoshi Matsuda (RE-MAIN, Uchitama?! Have you seen my Tama?, Kuma Miko) with series composition from Yasuko Kobayashi (Attack on Titan, Claymore, JoJo's Bizarre Adventure: Diamond is Unbreakable).
The series stars Saori Hayami (My Teen Romantic Comedy SNAFU, MM!, Darling in the Franxx) as Yumeko Jabami, Minami Tanaka (Wake Up, Girls!, Zombieland Saga, Assassination Classroom) as Mary Saotome and Tatsuya Tokutake (Beautiful Bones -Sakurako's Investigation-, THE IDOLM@STER SideM, Gurazeni: Money Pitch) as Ryota Suzui.
Sentai will release Kakegurui on home video in Q4 2021.
For Sentai's latest announcements regarding this and other great titles, be sure to like us on Facebook and follow us on Twitter.
About Sentai
A Cool Japan Fund portfolio company, Sentai is a leading global supplier of anime and official anime merchandise, distributing and curating one of the industry's most diverse libraries of top trending and classic titles. Sentai offers thousands of hours of content across both traditional and digital platforms and is dedicated to bringing captivating stories and iconic characters directly from Japan. With hit series that include MADE IN ABYSS, Food Wars!, Kaiji and Parasyte -the maxim-, Sentai's catalog continues to grow with new favorites like Bloom Into You, Revue Starlight and O Maidens in Your Savage Season, as well as classic anime series such as Legend of the Galactic Heroes and The Big O. For more information, visit www.sentai.com.
###