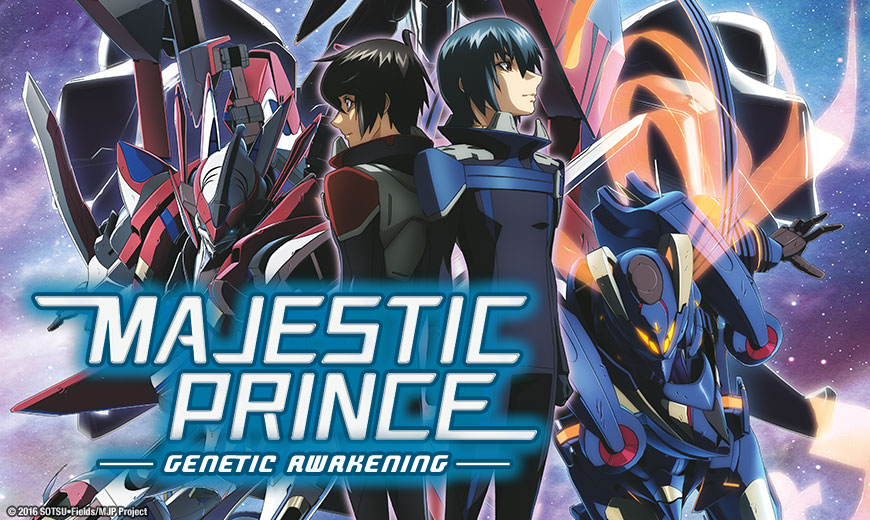 Sentai Suits Up with Frenetic Mecha "Majestic Prince: Genetic Awakening"
---
HOUSTON, TX — November 18, 2020 — Sentai announced today that it acquired Majestic Prince: Genetic Awakening, the feature-length successor to the popular Majestic Prince anime series, for release in the United States, Canada, the United Kingdom, Ireland, South Africa, Australia and New Zealand.
Team Rabbits returns with even more mecha and combat action. Their leader, Izuru, has fallen into a coma following critical injuries he sustained in a fierce battle with his sworn enemy, Jiart. Now Asagi steps up to command Team Rabbits, but does he have what it takes to live up to his brother Izuru's legacy? There's no time for second-guessing as Asagai and Team Rabbits take the ultimate stand against a terrifying new enemy, the likes of which they've never faced. Explosive mecha action unfolds against a backdrop of alien warfare and gripping drama in Majestic Prince: Genetic Awakening!
Produced by studio Orange (Land of the Lustrous, Undefeated Bahamut Chronicle), Majestic Prince: Genetic Awakening is directed by Keitaro Motonaga (Legend of the Galactic Heroes, Akane Iro ni Somaru Saka) with a screenplay from Yoshitaka Shishido (Neuro: Supernatural Detective, Supernatural: The Anime Series). The film stars Shintaro Asanuma (Tsurune, Seitokai Yakuindomo) as Toshikazu Asagi, Hiroki Aiba (Majestic Prince, Prince of Tennis) as Izuru Hitachi, Yoko Hikasa (No Game, No Life, K-On!) as Kei Kugimiya, Yuka Iguchi (Girls & Panzer, To LOVE-Ru Darkness) as Tamaki Irie, Junya Ikeda (After the Rain, Cheating Craft) as Ataru Suruga and Akeno Watanabe (To LOVE-Ru, My Hero Academia) as Ange Kuroki.
Majestic Prince: Genetic Awakening will be available on home video and select digital outlets.
For Sentai's latest announcements regarding this and other great titles, be sure to like us on Facebook and follow us on Twitter.
About Sentai
A Cool Japan Fund portfolio company, Sentai is a leading global supplier of anime and official anime merchandise, distributing, and curating one of the industry's most diverse libraries of top trending and classic titles. Sentai offers thousands of hours of content across both traditional and digital platforms and is dedicated to bringing captivating stories and iconic characters directly from Japan. With hit series that include MADE IN ABYSS, Food Wars!, Princess Tutu and Parasyte -the maxim-, Sentai's catalog continues to grow with new favorites like Bloom Into You, Revue Starlight and O Maidens in Your Savage Season, as well as classic anime series such as Legend of the Galactic Heroes and The Big O. For more information, visit www.sentaifilmworks.com.
###