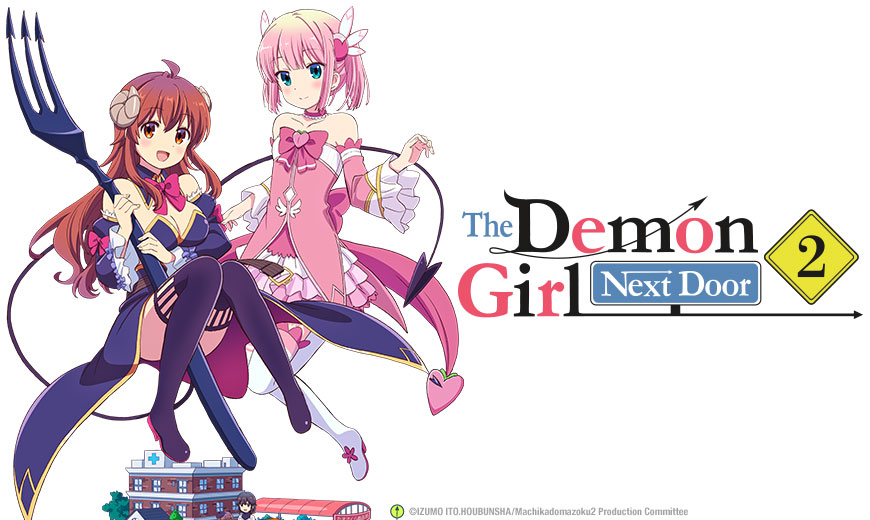 Sentai Summons "The Demon Girl Next Door" Season 2
---
HOUSTON, TX — March 15, 2022 — Sentai announced today that it acquired exclusive rights to The Demon Girl Next Door Season 2, the follow-up to 2019's comedy series of the same name that devilishly turned the magical girl genre on its head (and stuck on horns for good measure). Sentai's license includes North America, Australia, New Zealand, UK, Ireland, South Africa, the Netherlands, Scandinavia and Nordic Countries, Spain, Portugal, Central & South America and French and German-speaking territories. The series will stream as part of the Spring 2022 simulcast season exclusively on HIDIVE, where fans can enjoy both seasons.
Our favorite supernatural powerhouse, Shamiko, AKA Shadow Mistress Yuko, aims to break the curse placed on her family by the Clan of Light. Along the way, she forms an unlikely allegiance with Momo, a rival from the Light Clan! They'll need to work together to find another magical girl who's gone mysteriously missing, and what's this? There's a dangerous force lurking somewhere in the city, plus Shamiko's mysterious father might be closer than she thinks? Looks like Shamiko and Momo will have their hands full in this latest installment of The Demon Girl Next Door!
The Demon Girl Next Door Season 2 is directed by Hiroaki Sakurai (The Demon Girl Next Door, Maid-Sama!, The Disastrous Life of Saiki K.) with animation from studio J.C.STAFF (Flying Witch, Is it Wrong to Try to Pick Up Girls in a Dungeon?, Toradora!). Ochi Keichiro (My Teen Romantic Comedy SNAFU Climax!, The Quintessential Quintuplets, Hinamatsuri) handles series composition while Mai Otsuka (Non Non Biyori, This Art Club Has a Problem!, Shakugan no Shana: Season I) provides character design. The manga's English-language release is by Seven Seas Entertainment.
The series stars Konomi Kohara (Kaguya-sama: Love is War, Asobi Asobase, Mushoku Tensei: Jobless Reincarnation) as Yuko "Shamiko" Yoshida, Akari Kito (Demon Slayer, TONIKAWA: Over the Moon For You, Adachi and Shimamura) as Momo Chiyoda, Minami Takahashi (Food Wars!, FLIP FLAPPERS, Kase-san and Morning Glories) as Lilith and Tomoyo Takayanagi (Asteroid in Love, Umamusume: Pretty Derby, Those Snow White Notes) as Mikan Hinatsuki.
Sentai will stream The Demon Girl Next Door Season 2 exclusively on HIDIVE, its direct-to-consumer streaming service, with a home video release to follow.
For Sentai's latest announcements regarding this and other great titles, be sure to like us on Facebook and follow us on Twitter.
About Sentai
Sentai is a leading global supplier of anime content and official merchandise dedicated to bringing captivating stories and iconic characters directly from Japan. Sentai's brands include HIDIVE (direct-to-consumer streaming), SentaiFilmworks.com (direct to consumer E-Commerce), Anime Network (Cable SVOD) and Sentai Studios (localization and studio services). Sentai's diverse library includes thousands of hours of hit titles and classic series including MADE IN ABYSS, Akame ga Kill, Food Wars!, Clannad, Is it Wrong to Try to Pick Up Girls in a Dungeon?, High School of the Dead, Girls & Panzer, No Game No Life, K-On!, Assassin's Pride and Parasyte -the maxim-.
###