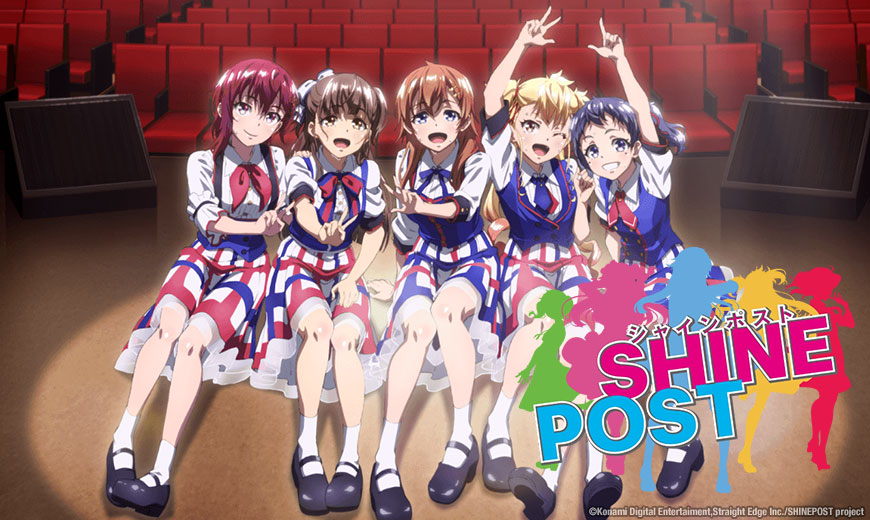 Sentai to Debut Anime Adaptation of "SHINEPOST" in Summer 2022
---
HOUSTON, TX — June 28, 2022 — Sentai announced today that it has acquired exclusive rights to SHINEPOST, the beautifully crafted anime series based upon the light novel of the same name by Rakuda, author of ORESUKI: Are you the only one who loves me? Sentai will stream the series exclusively on HIDIVE during the Summer 2022 simulcast season.
Although the idol group TiNgS is chasing after big dreams, so far their accomplishments have only been small — and now, suddenly, they're facing a potential break up! Hope seems lost, but when a new manager with a special skillset takes them under his wing, the members of TiNgS find themselves shooting for the stars all over again.
SHINEPOST is part of a multimedia project from Konami Digital Entertainment and Straight Edge that includes music videos, concerts, a mobile game, and manga and anime adaptations. Sentai will add SHINEPOST to its stunning lineup of fan-favorite idol shows, including BanG Dream!, Revue Starlight, Wake Up, Girls!, D4DJ First Mix and the mega-popular Utano Princesama franchise. The series' music is produced by Yohei Kisara, who has been involved in and produced many hit anime series such as Love Live! (μ's) and Azure Lane.
Animated by Studio Kai (Uma Musume: Pretty Derby Season 2, Skeleton Knight in Another World), SHINEPOST is directed by Kei Oikawa (My Teen Romantic Comedy SNAFU TOO!, Hinamatsuri, Uma Musume: Pretty Derby, Pretty Derby Season 2). Original creator Rakuda and Tatsuo Higuchi (Toradora!, Hanasaku Iroha: Blossoms for Tomorrow, D.Gray-man Hallow) provide the series' script. The series' animation direction is led by Yoshihiro Nagata (MACROSS series).
SHINEPOST stars Sayumi Suzushiro (86, Kaguya-sama: Love Is War, High Score Girl) as Haru Nabatame and Yuko Natsuyoshi (To Your Eternity, The Misfit of Demon King Academy, Show by Rock!! Stars!!) as Rio Seibu. They are joined by Rika Nakagawa as Momiji Ito and Rimo Hasegawa as Yukine Gionji. Moeko Kanisawa, who will play the role of Kyoka Tamaki, will make her debut as a voice actress in SHINEPOST.
The series will premiere exclusively on HIDIVE in Summer 2022 with a home video release to follow.
For Sentai's latest announcements regarding this and other great titles, be sure to like us on Facebook and follow us on Twitter.
About Sentai
Sentai is a leading global supplier of anime content and official merchandise dedicated to bringing captivating stories and iconic characters directly from Japan. Sentai's brands include HIDIVE (direct-to-consumer streaming), SentaiFilmworks.com (direct to consumer E-Commerce), Anime Network (Cable SVOD) and Sentai Studios (localization and studio services). Sentai's diverse library includes thousands of hours of hit titles and classic series including MADE IN ABYSS, Akame ga Kill, Food Wars!, Clannad, Is it Wrong to Try to Pick Up Girls in a Dungeon?, High School of the Dead, Girls & Panzer, No Game No Life, K-On!, Assassin's Pride and Parasyte -the maxim-.
SHINEPOST ©Konami Digital Entertaiment, Straight Edge Inc./SHINEPOST project
###