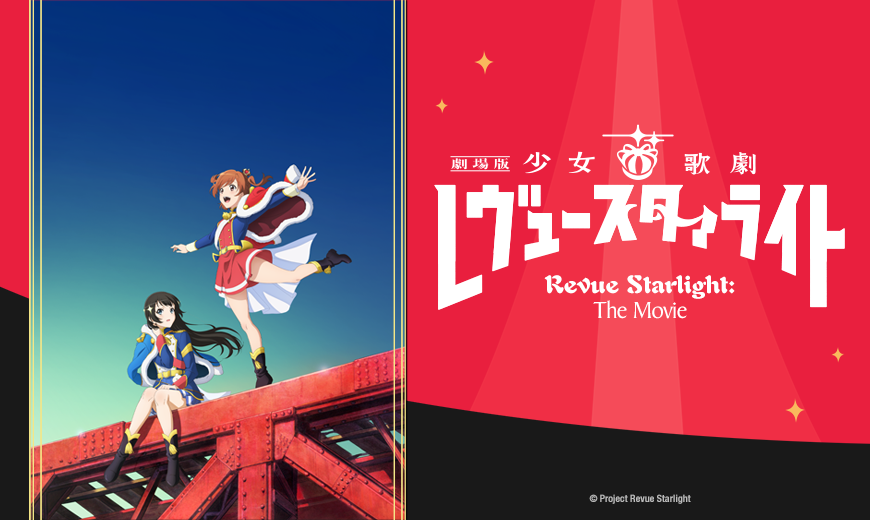 Sentai to Debut "Revue Starlight The Movie" in Theaters Summer 2022 Following Exclusive Sneak Peak at Anime Central
---
HOUSTON, TX — April 21, 2022 — Sentai announced today that Revue Starlight The Movie, the highly anticipated follow-up to the 2018 anime series of the same name, will debut in North American theaters June 2022 following an exclusive sneak-peak premiere at Anime Central in May 2022. Revue Starlight, a franchise steeped in magical realism and wrapped in dreamy visuals, chronicles the journeys of hopeful young actresses as they vie to become the top star of Seisho Music Academy. The film will premiere on Friday, May 20, 2022 at 8 PM at Anime Central and will be available in select theaters nationwide on June 5, 2022 with an encore presentation on June 6, 2022.
Revue Starlight The Movie picks up soon after the series left off and opens the curtain a new, original story set during Karen Aijo and Hikari Kagura's third year at Seisho Music Academy, a performing arts school for young women who aspire to the heights of on-stage stardom. In the next chapter of their theatrical lives, these young women will face one another on the battlefield of the stage, where song, dance and thrilling swordplay collide to illustrate the rich emotional narratives of the film's protagonists. Fans of Revue Starlight won't want to miss the next chapter of Karen and Hikari's story, which brings to life even more of the high-flying musical numbers and rich emotionality of the beloved original series.
The film is animated by Kinema Citrus, the renowned studio that brought audiences such stunning series as MADE IN ABYSS and its companion films, including the critically acclaimed MADE IN ABYSS: Dawn of the Deep Soul. It was directed by Tomohiro Furuwara, who helmed the Revue Starlight anime series. Returning composers Tatsuya Kato (Food Wars!, Love Live! Sunshine!!, Dr. Stone) and Yoshiaki Fujisawa (Land of the Lustrous, No Game, No Life Zero, Mushoku Tensei: Jobless Reincarnation) crafted the film's soaring musical score.
For more information or to request a film screening near you, visit our list of participating theaters at sentai.com.
For Sentai's latest announcements regarding this and other great titles, be sure to like us on Facebook and follow us on Twitter.
About Sentai
Sentai is a leading global supplier of anime content and official merchandise dedicated to bringing captivating stories and iconic characters directly from Japan. Sentai's brands include HIDIVE (direct-to-consumer streaming), SentaiFilmworks.com (direct to consumer E-Commerce), Anime Network (Cable SVOD) and Sentai Studios (localization and studio services). Sentai's diverse library includes thousands of hours of hit titles and classic series including MADE IN ABYSS, Akame ga Kill, Food Wars!, Clannad, Is it Wrong to Try to Pick Up Girls in a Dungeon?, High School of the Dead, Girls & Panzer, No Game No Life, K-On!, Assassin's Pride and Parasyte -the maxim-.
###