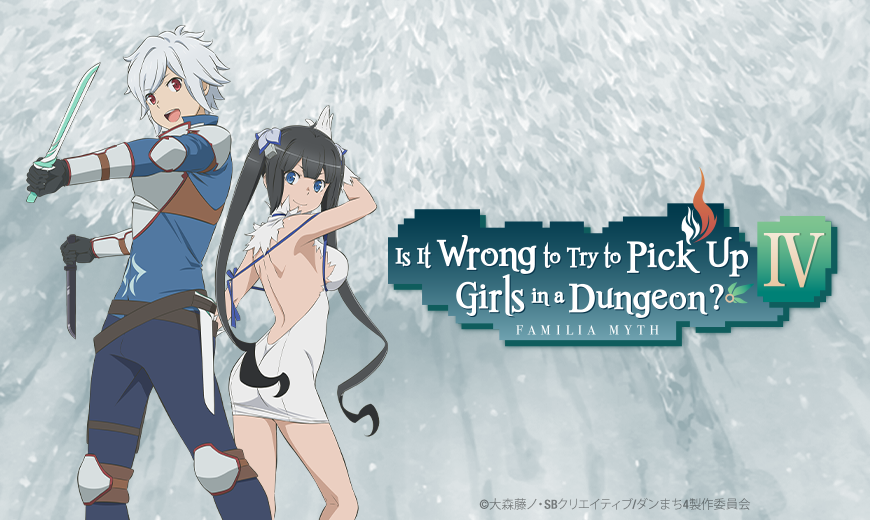 Sentai to Unleash Fourth Season of "Is it Wrong to Try to Pick Up Girls in a Dungeon?" Summer 2022
---
HOUSTON, TX — May 28, 2022 — Sentai announced today that it acquired the highly anticipated fourth season of Is it Wrong to Try to Pick Up Girls in a Dungeon?, which adapts the Labyrinth Arc of Fujino Omori's award-winning, mega-popular light novel series. Sentai will premiere Is it Wrong to Try to Pick Up Girls in a Dungeon? IV on HIDIVE as part of the Summer 2022 simulcast season for audiences in North America, the United Kingdom, Ireland, Australia, New Zealand, South Africa, the Netherlands, Scandinavia, Turkey, Middle East and Latin America.
Intrepid adventurer Bell Cranel has leveled up, but he can't rest on his dungeoneering laurels just yet. The Hestia Familia still has a long way to go before it can stand toe-to-toe with the other Familias of Orario — but before Bell can set out on his next mission, reports of a brutal murder rock the adventuring community! One of Bell's trusted allies stands accused of the horrible crime, and it's up to Bell and his friends to clear their name and uncover a nefarious plot brewing in the dungeon's dark depths.
The fourth installment of the Is It Wrong to Try to Pick Up Girls in a Dungeon? saga is produced by J.C. Staff (Food Wars!, The Executioner and Her Way of Life). Season 4 is directed by Hideki Tachibana (Is it Wrong to Try to Pick Up Girls in a Dungeon? III, Armed Girls Machiavellism) with series script supervision from both Hideki Shirane (Is it Wrong to Try to Pick Up Girls in a Dungeon?, Hayate the Combat Butler) and the light novel series' original creator, Fujino Omori.
The series stars returning seiyuu Yoshitsugu Matsuoka (Akame ga Kill!, DEVILS' LINE) as Bell Cranel and Inori Minase (Girls' Last Tour, Tada Never Falls in Love) as the fan-favorite goddess Hestia. The series also stars Saori Hayami (My Teen Romantic Comedy SNAFU Climax, Spy x Family) as Ryu Lion, Yoshimasa Hosoya (Kids on the Slope, Attack on Titan) as Welf Crozzo, Maya Uchida (Love, Chunibyo & Other Delusions!, Domestic Girlfriend) as Liliruca Arde, Kazuyuki Okitsu (Run With the Wind, JoJo's Bizarre Adventure) as Ouka Kashima, Haruka Chisuga (Amagi Brilliant Park, SHIROBAKO) as Haruhime, Chinatsu Akasaki (Food Wars! The Second Plate, Wasteful Days of High School Girls) as Mikoto Yamato, Akeno Watanabe (To Love Ru, Witch Hunter Robin) as Aisha Belka and Yuka Iguchi (Girls und Panzer, Ascendance of a Bookworm) as Hitachi Chigusa.
The series will premiere on HIDIVE in Summer 2022 with a home video release to follow.
For Sentai's latest announcements regarding this and other great titles, be sure to like us on Facebook and follow us on Twitter.
About Sentai
Sentai is a leading global supplier of anime content and official merchandise dedicated to bringing captivating stories and iconic characters directly from Japan. Sentai's brands include HIDIVE (direct-to-consumer streaming), SentaiFilmworks.com (direct to consumer E-Commerce), Anime Network (Cable SVOD) and Sentai Studios (localization and studio services). Sentai's diverse library includes thousands of hours of hit titles and classic series including MADE IN ABYSS, Akame ga Kill, Food Wars!, Clannad, Is it Wrong to Try to Pick Up Girls in a Dungeon?, High School of the Dead, Girls & Panzer, No Game No Life, K-On!, Assassin's Pride and Parasyte -the maxim-.
###