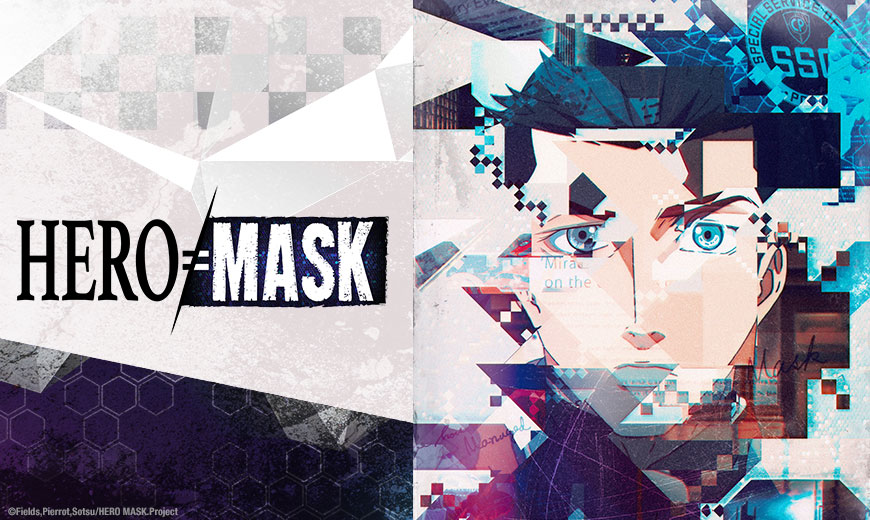 Sentai Unveils "HERO MASK" for Home Video
---
HOUSTON, TX — January 21, 2021 — Sentai announced today that it acquired home video rights to the action thriller series HERO MASK, a Studio Pierrot (Tokyo Ghoul, Bleach) production, through a worldwide licensing arrangement (excluding Asia).
Detective James Blood, member of an elite police unit, pushes the edges of law enforcement to bring down the criminal threats and terrorist organizations plaguing a beautiful metropolitan city. When the murder of Crown Prosecutor Monica Campbell crosses his desk, Blood finds himself embroiled in a conspiracy involving LIVE, a two-faced corporate conglomerate with ties to the sordid underworld of human experimentation. With Sarah Sinclair — the only witness to Campbell's death — at his side, Blood will have to face an army of mask-wearing superhumans to uncover the truth and stop LIVE before its plans can come to dark fruition...
HERO MASK stars Yasuyuki Kase (The Perfect Insider, 91 Days) as James Blood, Yuuko Kaida (The Promised Neverland, A Certain Scientific Railgun) as Sarah Sinclair, Kouki Uchiyama (Amagi Brilliant Park, Haikyuu!!) as Harry Creighton and Junpei Morita (Eureka Seven, Naruto: Shippuden) as Lennox Gallagher. Director Hiroyasu Aoki (assistant director Hunter x Hunter Movie 2: The Last Mission) provides series composition and the script.
For Sentai's latest announcements regarding this and other great titles, be sure to like us on Facebook and follow us on Twitter.
About Sentai
A Cool Japan Fund portfolio company, Sentai is a leading global supplier of anime and official anime merchandise, distributing and curating one of the industry's most diverse libraries of top trending and classic titles. Sentai offers thousands of hours of content across both traditional and digital platforms and is dedicated to bringing captivating stories and iconic characters directly from Japan. With hit series that include MADE IN ABYSS, Food Wars!, Princess Tutu and Parasyte -the maxim-, Sentai's catalog continues to grow with new favorites like Bloom Into You, Revue Starlight and O Maidens in Your Savage Season, as well as classic anime series such as Legend of the Galactic Heroes and The Big O. For more information, visit www.sentaifilmworks.com.
###