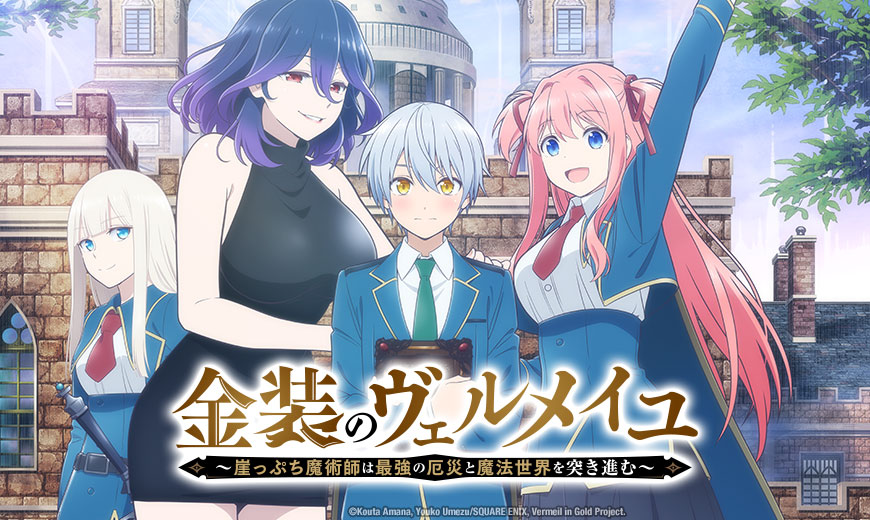 Sentai Unveils "Vermeil in Gold" Fantasy Anime for Summer 2022
---
HOUSTON, TX — June 15, 2022 — Sentai announced today that it acquired exclusive rights to Vermeil in Gold, the anime adaptation of the cheeky fantasy-comedy manga of the same name published in Square Enix's Monthly Shonen Gangan magazine. Sentai will stream Vermeil in Gold exclusively on HIDIVE during the Summer 2022 simulcast season.
Meet Alto, a hapless student at Royal Ortigia Magic Academy whose academic performance leaves much to be desired. Rather than take a more sensible approach to salvaging his grades in time for graduation, Alto decides to summon a bit of otherworldly assistance. Only after does he learn he's bound the legendary she-devil Vermeil into service as his familiar! But while Vermeil is a powerful ally sure to turn his grades around, her magic can only be replenished with a kiss, and that makes everything go to hell with Alto's jealous childhood friend, Lilia. Looks like Alto just unleashed a whole new world of devilish mayhem in Vermeil in Gold: A Desperate Magician Barges Into the Magical World Alongside the Strongest Calamity!
The series is animated by Staple Entertainment (Val x Love) with Takashi Naoya (Val x Love, Real Girl, Osamake: Romcom Where The Childhood Friend Won't Lose) serving as director. Tatsuya Takahashi (Domestic Girlfriend, Hayate the Combat Butler!!, Wise Man's Grandchild) provides series composition. The series stars Yuya Hirose (Val x Love, O Maidens in Your Savage Season, SSSS.Gridman) as Alto Goldfield and Maaya Uchida (Domestic Girlfriend, Love, Chunibyo and Other Delusions!, Noragami) as Vermeil.
Vermeil in Gold: A Desperate Magician Barges Into the Magical World Alongside the Strongest Calamity will premiere exclusively on HIDIVE in Summer 2022 with a home video release to follow.
For Sentai's latest announcements regarding this and other great titles, be sure to like us on Facebook and follow us on Twitter.
About Sentai
Sentai is a leading global supplier of anime content and official merchandise dedicated to bringing captivating stories and iconic characters directly from Japan. Sentai's brands include HIDIVE (direct-to-consumer streaming), SentaiFilmworks.com (direct to consumer E-Commerce), Anime Network (Cable SVOD) and Sentai Studios (localization and studio services). Sentai's diverse library includes thousands of hours of hit titles and classic series including MADE IN ABYSS, Akame ga Kill, Food Wars!, Clannad, Is it Wrong to Try to Pick Up Girls in a Dungeon?, High School of the Dead, Girls & Panzer, No Game No Life, K-On!, Assassin's Pride and Parasyte -the maxim-.
###