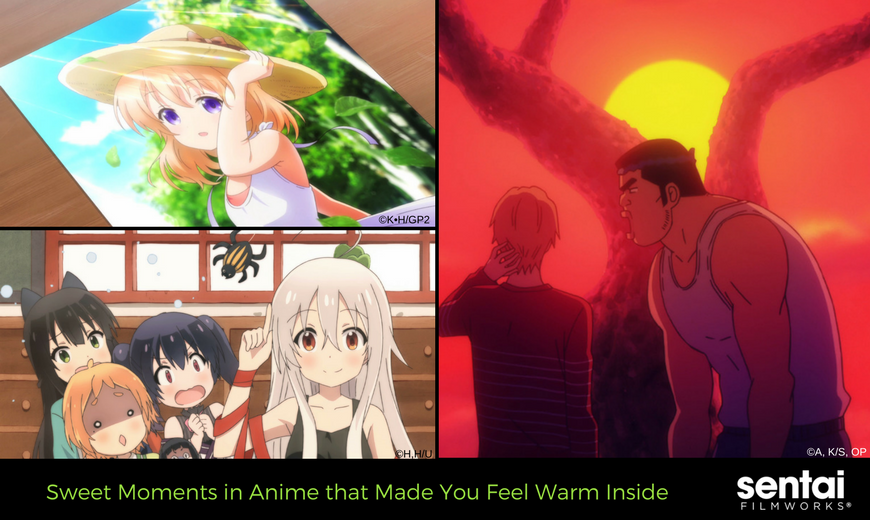 Sweet Moments in Anime that Made You Feel Warm Inside
---
March 3rd is Make Someone Happy Day! In celebration, we wanted to give you sweet moments in anime that made us genuinely smile and laugh. Sweet and sugary moments happen all the time in anime, sometimes when you least expect it. Some are filled with hilarious antics, and others with cute interludes of real life. Here is our list of top feel good anime moments!
Ah! One of the best bromances in anime we have seen in a while. One of their favorite spots is the "butt pine." They found it when they were young and have ended up there a few times growing up. Our favorite moment is when Takeo reaffirms his friendship with Suna, telling him he should rely more on Takeo. Also, it's important to note that the tree is probably, in fact, a guy's butt.
We had to bring up this little scene. The girls are learning about different omens, and then they start seeing bad omens everywhere. When they end up being too afraid to do anything, they realize the important part about omen reading. They learn that what they should be doing is not looking for every bad omen, but enjoying the time they have with each other. We died awww-ing.
Kasumi is an endearing character who appears to love hugs, and our favorite scene is when she's trying to learn how to play guitar. Tae, a semi tsundere-type, sees this and tries to teach her the ropes of handling a guitar. We couldn't help but smile as two girls with a fierce passion for music tried their best.
Talking about all things sugary, we loved it when Cocoa sees a picture from their vacation in the mountains. She notices a photo of a beautiful, mature-looking girl amid the pictures and asks the others who it is. Cocoa then freaks out when the girls point out that the girl in the picture was actually her. We couldn't help but laugh and giggle at Cocoa's silliness.
We loved the scene where Tatsumi goes shopping with Mine. It's nice seeing two characters in a chaotic setting taking time for themselves and enjoying a little quality time together. Mine, always the tsundere, shows us her cute side.
Make Someone Happy Today
Put on your favorite anime with your favorite person. Sometimes all you have to do is make someone happy is just by being next to them. Tell us what your favorite heartwarming moment in anime on Facebook, Twitter, Tumblr, and Instagram!