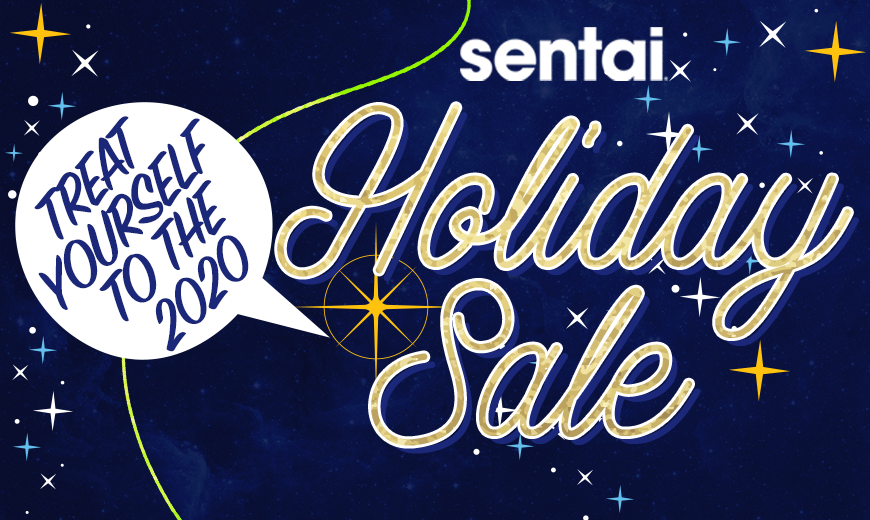 Treat Yourself With the Sentai 2020 Holiday Sale
---
Have you been naughty or nice this year? Either way, it doesn't matter since Sentai isn't as stingy as a certain jolly old fellow is with presents.
Which works out for you! Why? The Holiday Sale is here at long last, that's why! That means deals on all those anime titles on your wishlist.
When is the
Sentai 2020 Holiday Sale
? I NEED TO KNOW!
Set your calendars for December 5, 2020 through January 5, 2021. That's an entire month's worth of discounts just for you!
Tell Us More About These… "The Discounts"
As you may already know, our Holiday Sale is one of our biggest sales of the year, and we've got the discounts to prove it.
You're getting up to 95% OFF select anime across our entire store! That includes Blu-rays, DVDs, Limited Editions and lots more.
How does that sound?
But What About Shipping?
Costs add up and shipping can get expensive, so we want you to know that your Sentai pals have heard you loud and clear.
That's why our US shoppers get FREE shipping on orders over $50 USD!
Don't worry, Canadian shoppers, we're not leaving you out in the cold this year. You're getting FREE shipping on orders over $200 USD!
Are We Trying to Sell You On Our Holiday Sale? Yes. But You Benefit, Too!
We get sales and you get anime at a deep discount. Everybody wins! So what are you waiting for, an invitation? Check out our Sentai 2020 Holiday Sale right now and prepare to empty your wishlist just in time for the New Year.
The Holiday Sale isn't the only sale we have during the year! Sign up for our newsletter and get notifications about our upcoming Sentai Scavenger Hunt, our 2021 sales and more!