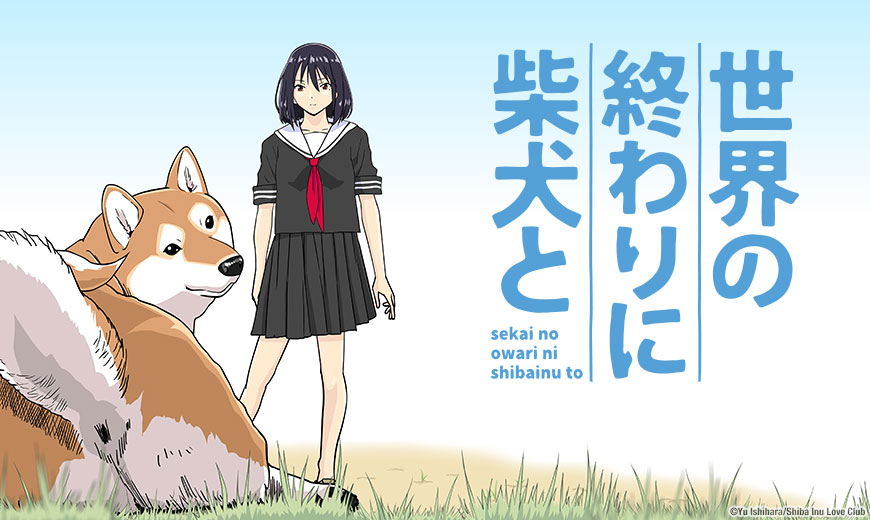 Sentai to Spend "Doomsday with My Dog" Beginning Summer 2022
---
HOUSTON, TX — June 13, 2022 — Sentai announced today that it acquired exclusive rights to Doomsday with My Dog (Sekai no Owari ni Shiba Inu to), an animated web-comic that brings to life Yu Ishihara's hilarious 4-koma manga series serialized by ComicWalker. Sentai will stream the animated comic shorts on its direct-to-consumer streaming service, HIDIVE, in Summer 2022.
The sole surviving human and her canine companion, Haru, wander a desolate wasteland after the destruction of civilization, but this is no dark doomsday tale. Haru, a wise-beyond-his-years talking shiba inu, makes sure his master stays one step ahead of post-apocalyptic pessimism with his clever antics, hilarious observations and philosophical ponderings. She may be the last girl on earth, but with Haru at her side, the road through the apocalypse will never be boring!
The animated comic, which lends spirited voice-work to the always arresting manga panels fans know and love, is directed by Aoi Shimoyama (GTO: Great Teacher Onizuka) with general supervision by Sorosoro Tanigawa (Taeko no Nichijou). The series stars Mutsumi Tamura (Miss Kobayashi's Dragon Maid) as Haru, the talking shiba inu, and Maaya Uchida (Love, Chunibyo & Other Delusions!) as Haru's master, the last survivor of the human race.
The series will premiere exclusively on HIDIVE in Summer 2022.
For Sentai's latest announcements regarding this and other great titles, be sure to like us on Facebook and follow us on Twitter.
About Sentai
Sentai is a leading global supplier of anime content and official merchandise dedicated to bringing captivating stories and iconic characters directly from Japan. Sentai's brands include HIDIVE (direct-to-consumer streaming), SentaiFilmworks.com (direct to consumer E-Commerce), Anime Network (Cable SVOD) and Sentai Studios (localization and studio services). Sentai's diverse library includes thousands of hours of hit titles and classic series including MADE IN ABYSS, Akame ga Kill, Food Wars!, Clannad, Is it Wrong to Try to Pick Up Girls in a Dungeon?, High School of the Dead, Girls & Panzer, No Game No Life, K-On!, Assassin's Pride and Parasyte -the maxim-.
###