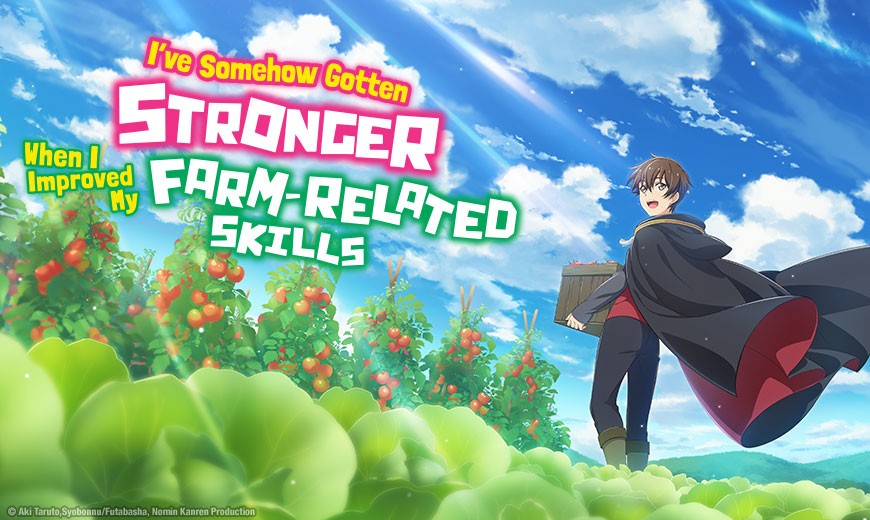 Sentai Harvests "I've Somehow Gotten Stronger When I Improved My Farm-Related Skills"
---
HOUSTON, TX — July 2, 2022 — Sentai announced today that it acquired exclusive rights to fantasy series I've Somehow Gotten Stronger When I Improved My Farm-Related Skills, based on the light novel series of the same name. Sentai will premiere the series exclusively on HIDIVE, its anime-focused streaming service, Fall 2022.
Al Wayne loves farming — and we don't mean the video game sim. He wants to be a literal farmer, but in the process of improving his agriculture skills, he somehow winds up maxing out his overall character stats! He's superpowered in the most unexpected of ways with abilities even the strongest of heroes would envy. Alas, all he wants is an idyllic farmer's life, but with demons and monsters invading the realm, Al may have to take up the mantle of hero just to keep his dreams from withering away!
I've Somehow Gotten Stronger When I Improved My Farm-Related Skills is based upon the light novel series originally published on the Shosetsuka ni Naro digital publishing site and later in Futabasha's Monster Bunko imprint, where it sold over 700,000 copies.
The series is animated by Studio A-CAT (Frame Arms Girl, Getter Robo Arc, Battle Game in 5 Seconds). It is directed by Norihiko Nagahama (episode director for Moribito: Guardian of the Spirit, Trigun, Cardcaptor Sakura) with series composition from Touko Machida (scriptwriter for Space Brothers, My Teen Romantic Comedy SNAFU, KonoSuba: God's Blessing on This Wonderful World! 2). Takuro Iga (Tsuki ga Kirei, Kakuriyo: Bed and Breakfast for Spirits, Aria the Avvenire) composed the series' musical score.
The series stars Junya Enoki (Jujutsu Kaisen, Dorohedoro, TONIKAWA: Over the Moon For You) as Al Wayne, Minami Tanaka (Kakegurui, Hanayamata, Zombieland Saga) as Fal Ys Meigis, Rumi Okubo (Place to Place, Death Parade, Talentless Nana) as Helen Lean and Ayaka Suwa (The Fruit of Grisaia, Tanaka-kun is Always Listless, Riddle Story of Devil) as Ruri.
I've Somehow Gotten Stronger When I Improved My Farm-Related Skills will premiere exclusively on HIDIVE during the Fall 2022 simulcast season with a home video release to follow.
For Sentai's latest announcements regarding this and other great titles, be sure to like us on Facebook and follow us on Twitter.
About Sentai
Sentai is a leading global supplier of anime content and official merchandise dedicated to bringing captivating stories and iconic characters directly from Japan. Sentai's brands include HIDIVE (direct-to-consumer streaming), SentaiFilmworks.com (direct to consumer E-Commerce), Anime Network (Cable SVOD) and Sentai Studios (localization and studio services). Sentai's diverse library includes thousands of hours of hit titles and classic series including MADE IN ABYSS, Ya Boy Kongming!, Akame ga Kill, Food Wars!, Clannad, The Executioner and Her Way of Life, Is it Wrong to Try to Pick Up Girls in a Dungeon?, High School of the Dead, Girls & Panzer, No Game No Life, K-On!, I'm Quitting Heroing and Parasyte -the maxim-.
###