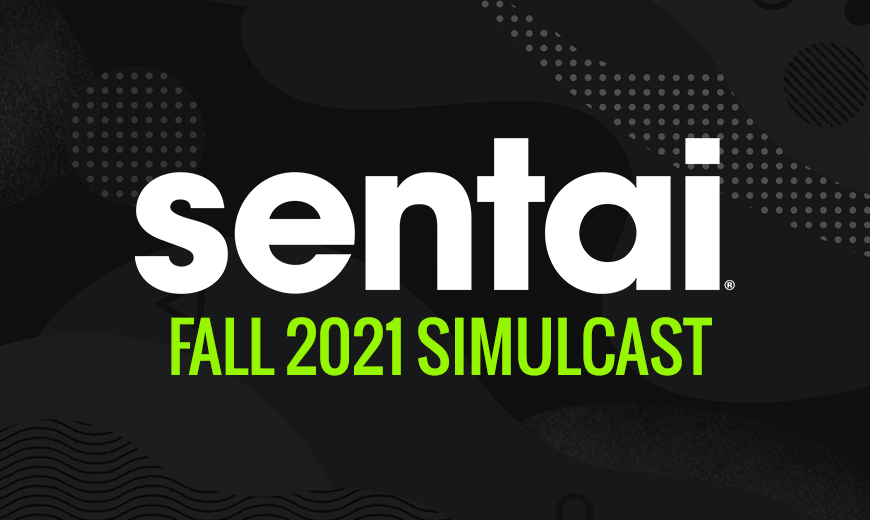 Stream the Sentai Fall 2021 Simulcasts!
---
Wondering what we're streaming for you during the Fall 2021 anime season? Read on to learn about Sentai's simulcasts for Fall 2021, and stream these awesome shows on HIDIVE every week during the season!

Gentleman thief Lupin III is back and ready for his next caper — unless legendary sleuth, Sherlock Holmes, has anything to say about it! After a terrible crime comes to light in London, none other than Lupin tops the suspects list. With Holmes fast closing in, Lupin must clear his name and bring a shadowy organization called The Raven to heel if he wants to live to steal another day. It's master thief versus legendary detective in the latest chapter of Lupin's exploits, LUPIN THE 3rd PART 6!

Kakeru Miwa is the lone survivor of a horrible disaster. Years later, a twist of fate puts him on the front lines of the battle against the menacing Oni, the supernatural monsters who killed so many on that terrible day. With the help of a powerful (but unstable and demon-possessed) battle suit, Kakeru joins an elite team that defends humanity from otherworldly threats and guards Oka Myojin, a shrine maiden prophesied to save the world. To protect humanity from harm, she must perform a sacred ritual within Shikizakura, the horizon that connects the spiritual and physical world that lies amid blooming cherry blossoms and colorful autumn leaves, and only Kakeru and his bloodthirsty battle suit stand between her and utter annihilation.

Welcome back, Yuki Yuna, for season 3 of this stunning (and unexpectedly sinister) magical girl series! The magical girls of the Sanshu Middle School Hero Club have one goal: to make people smile whenever they can and to always help those in need. Through teamwork and the help of their magical powers, Yuna, Mimori, Fuu, Itsuki, Karin and Sonoko have vanquished deadly Vertexes, recovered a missing friend and balanced their lives as magical girls and regular middle school students. Now a new adventure begins, one that will test their skills and their bond as friends alike.
Want to get caught up so you can watch season 3? HIDIVE has season 1 and season 2 of Yuki Yuna is a Hero ready for you today, and keep an eye out for the Yuki Yuna is a Hero – Churutto! shorts on HIDIVE on October 29.

In the second season of Cardfight!! Vanguard overDress, 15-year-old Yu-yu discovers the nocturnal amusement park known as Wonder Hill, where the members of Team Blackout gather to play Vanguard each night. Yu-yu soon finds himself drawn into epic battles and thrilling action. As he and Team Blackout fight to maintain their territory, he'll make new friends and compete for Vanguard supremacy.

Based upon the original works of PC gaming company Key, KAGINADO features the casts of Key's most tear-jerking games reimagined as adorable chibi characters! But this time, the casts of Clannad, Air, Kanon and Little Busters! aren't here to make audiences cry. Instead, anime fans will laugh along with this spirited re-imaging of their favorite game series in a hilarious crossover event that flips the script on expectation and provides a fresh take on the characters fans already know and love.

Matsuri Hibino spends her days in middle school dreaming about PriMagi, the sparkling stage show that combines song, dance and fashion with actual magic. She'd love to star in the PriMagi one day, and when the spirited troublemaker Myamu appears from a magical world to scout Matsuri as her PriMagi partner, the pair takes to the stage to become the top stars of PriMagi hand in hand!

One is short and angry, the other is tall and calm but together they are perfect to size-up any crazy situation. Popuko and Pipimi will take us on a bumpy ride through anime, manga and video game references showered in absurdist comedy and their spontaneous reactions. But what's up with this season being a "remix"? You gotta tune in to find out what surprises are in store as we rebroadcast Pop Team Epic!
Check out Sentai's Fall 2021 Simulcasts on HIDIVE today!
Want to know when each new episode airs? Check out HIDIVE's simulcast schedule so you can plan your weekly viewing, and tag us on social with your reaction to new episodes. Happy viewing, anime fans!
Not a HIDIVE subscriber yet? Sign up for your FREE HIDIVE TRIAL today and stream new simulcasts and longtime favorite anime series like Legend of the Galactic Heroes, CLANNAD, Food Wars!, Is it Wrong to Try to Pick Up Girls in a Dungeon? and more!