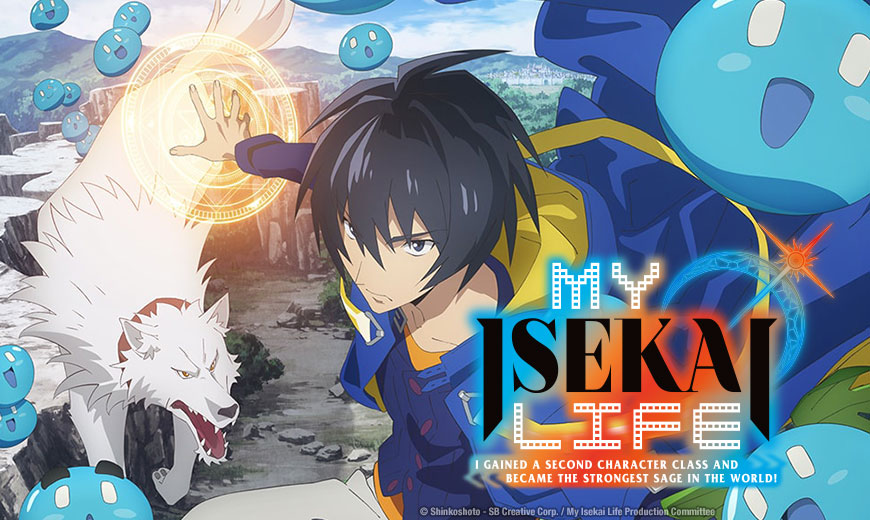 Sentai Summons "My Isekai Life" for Summer 2022
---
HOUSTON, TX — June 14, 2022 — Sentai announced today that it acquired exclusive rights to My Isekai Life: I Gained a Second Character Class and Became the Strongest Sage in the World!, the genre-bending fantasy anime series based on the light novel of the same name. Sentai will stream the series exclusively on HIDIVE this Summer 2022 simulcast season.
Getting isekai'd to a magical world and developing incredible powers is every otaku's wildest dream, but for salaryman Yuji Sano, it's the stuff of absolute nightmare! He's in the middle of a mountain of work when he gets unwillingly pulled into a fantasy realm, where he accomplishes the enviable feat of developing a second character class by making the most of his Monster Tamer abilities. Now he's traded the office for adventuring to make a living, but he keeps getting roped into major events because his powers are unmatched, second to none — and he doesn't even realize it yet!
Produced by studio Revoroot (Babylon, FLCL Alternative, I've Been Killing Slimes for 300 Years and Maxed Out My Level), the series is directed by Keisuke Kojima (animation director for Kill la Kill and One Punch Man) with series composition from Naohiro Fukushima (Eden of the East, The Daughter of 20 Faces). The series stars Chiaki Kobayashi (Vinland Saga, SK8 the Infinity, Moriarty the Patriot) as Yuji Sano, Azumi Waki (Ao-chan Can't Study!, How Not to Summon a Demon Lord, Blend S) as Dryad and Wataru Takagi (Obsolete, Detective Conan, Great Teacher Onizuka) as Proud Wolf.
The series will premiere on HIDIVE in Summer 2022 with a home video release to follow.
For Sentai's latest announcements regarding this and other great titles, be sure to like us on Facebook and follow us on Twitter.
About Sentai
Sentai is a leading global supplier of anime content and official merchandise dedicated to bringing captivating stories and iconic characters directly from Japan. Sentai's brands include HIDIVE (direct-to-consumer streaming), SentaiFilmworks.com (direct to consumer E-Commerce), Anime Network (Cable SVOD) and Sentai Studios (localization and studio services). Sentai's diverse library includes thousands of hours of hit titles and classic series including MADE IN ABYSS, Ya Boy Kongming!, Akame ga Kill, Food Wars!, Clannad, Is it Wrong to Try to Pick Up Girls in a Dungeon?, High School of the Dead, Girls & Panzer, No Game No Life, K-On!, The Executioner and Her Way of Life and Parasyte -the maxim-.
###