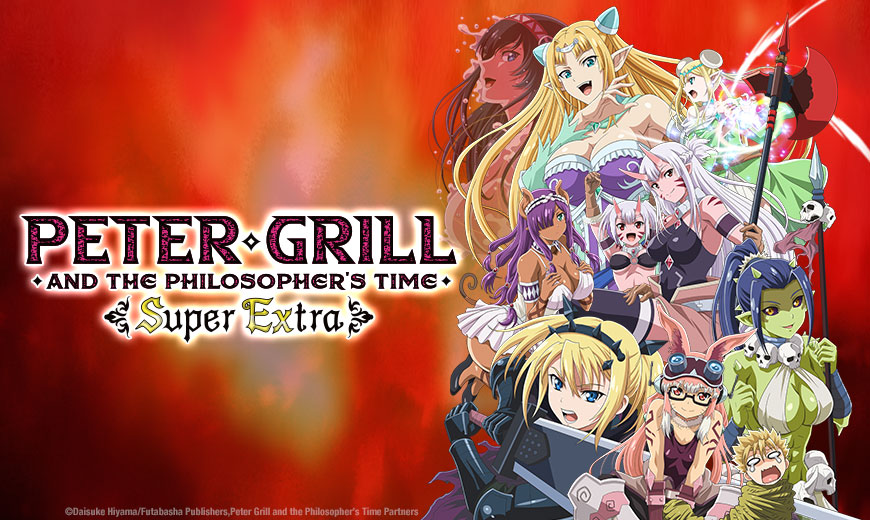 Sentai Sets Up "Peter Grill and the Philosopher's Time" Season 2 for 2022
---
HOUSTON, TX — July 2, 2022 — Sentai announced today that it acquired the second season of Peter Grill and the Philosopher's Time, the outrageously irreverent comedy anime series based on Daisuke Hiyama's manga of the same name that delighted anime fans with laugh-out-loud humor and cheeky innuendo. The series will premiere on HIDIVE in 2022.
Peter Grill is back and ready for action! Between quelling a goblin incursion, improving trade negotiations with the dwarves and placating a watchful sister who might just go berserk to keep him in line, Peter has his work cut out for him. He's the most sought-after hero in the land…and that's before counting the myriad woman interested in his "other" talents. It will take every last scrap of Peter's willpower to keep his focus on heroing in another raunchy season of Peter Grill and the Philosopher's Time - Super Extra!
Produced by returning animation studio Wolfsbane (Banished from the Hero's Party, I Decided to Live a Quiet Life in the Countryside) and joined by studio Seven (I Can't Understand What My Husband Is Saying), the series is directed by Tatsumi (Peter Grill and the Philosopher's Time Season 1), who also serves as the series' new chief animation director.
The second season of Peter Grill and the Philosopher's Time stars returning seiyuu Hiro Shimono (Log Horizon 2) as Peter Grill, Ayana Taketatsu (Queen's Blade Rebellion) as Mimi Alpacas, Hibiku Yamamura (Frame Arms Girl) as Lisa Alpacas, Sayaka Sembongi (Ahiru no Sora) as Piglette Pancetta, Akari Uehara (WorldEnd: What do you do at the end of the world? Are you busy? Will you save us?) as Vegan Eldoriel, Mikoi Sasaki (Kemono Friends) as Gobco Ngiel and Suzuna Kinoshita (DOREIKU: The Animation) as Lucy Grill. They are joined by Shiori Izawa (MADE IN ABYSS) as Misslim Netherlant and Kana Yuki (Black Clover) as Fulltalia Eldoriel.
Peter Grill and the Philosopher's Time - Super Extra will premiere on HIDIVE in 2022 with a home video release to follow.
For Sentai's latest announcements regarding this and other great titles, be sure to like us on Facebook and follow us on Twitter.
About Sentai
Sentai is a leading global supplier of anime content and official merchandise dedicated to bringing captivating stories and iconic characters directly from Japan. Sentai's brands include HIDIVE (direct-to-consumer streaming), SentaiFilmworks.com (direct to consumer E-Commerce), Anime Network (Cable SVOD) and Sentai Studios (localization and studio services). Sentai's diverse library includes thousands of hours of hit titles and classic series including MADE IN ABYSS, Akame ga Kill, Food Wars!, Clannad, Is it Wrong to Try to Pick Up Girls in a Dungeon?, High School of the Dead, Girls & Panzer, No Game No Life, K-On!, Assassin's Pride and Parasyte -the maxim-.
###