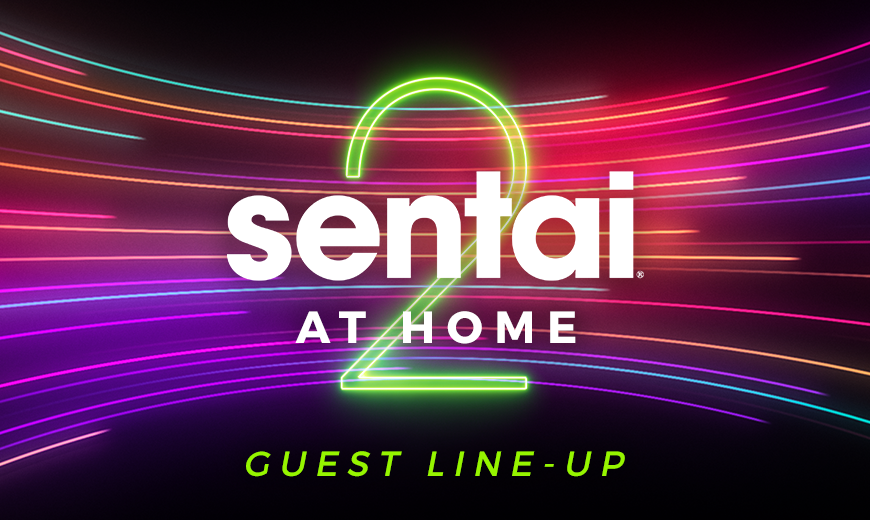 Sentai at Home 2021 Exclusive Guest and Event Lineup Revealed
---
HOUSTON, TX — July 21, 2021 — Today Sentai revealed the event and exclusive guest lineup for Sentai at Home 2021, Sentai's digital panel experience for anime fans around the world. Anime enthusiasts can catch Sentai at Home 2021 on Friday, August 20, 2021 at 2 PM CDT and should visit athome.sentai.com to learn more about this free event.
To bring the joy of anime to fans at home, Sentai will treat viewers to a lineup of exclusive interviews with an array of Japanese talent, including cast members from Non Non Biyori, Redo of Healer, Getter Robo Arc, Princess Principal, Mother of the Goddess' Dormitory and other Sentai favorites. Fans can also look forward to interviews with anime directors Morio Asaka (NANA), Masayuki Kojima (MADE IN ABYSS), Jun Kawagoe (Getter Robo Arc), Takuya Asaoka (Redo of Healer), Shinya Kawatsura (Non Non Biyori) and Masaki Tachibana (Princess Principal), as well as inside looks at the work of sound director Soichiro Kubo and music composer Hisaki Kato of HERO MASK. Additional guests include the creator of Redo of Healer, Rui Tsukiyo, and decorated music composer Kevin Penkin of MADE IN ABYSS fame.
In addition to Japanese guests, Sentai will host a retrospective look at the influential Lone Wolf & Cub television series with special guests Max Allan Collins (author of Road to Perdition) and Cinapse film critic Ed Travis, who will discuss the widespread influence of this culturally significant work. Alongside comedic interludes from comedian Chinedu Ogu and YouTube personality Roxxy Haze, fans can anticipate exclusive dub clips, sneak peeks of Sentai's upcoming home video releases, thrilling previews and so much more.
Sentai hosted the first iteration of Sentai at Home in August 2020. To learn more about Sentai at Home 2021 and to stay up-to-date on the event's latest news and developments, sign up for the Sentai at Home mailing list.
For Sentai's latest announcements regarding this and other great titles, be sure to like us on Facebook and follow us on Twitter.
About Sentai
A Cool Japan Fund portfolio company, Sentai is a leading global supplier of anime and official anime merchandise, distributing and curating one of the industry's most diverse libraries of top trending and classic titles. Sentai offers thousands of hours of content across both traditional and digital platforms and is dedicated to bringing captivating stories and iconic characters directly from Japan. With hit series that include MADE IN ABYSS, Food Wars!, Princess Tutu and Parasyte -the maxim-, Sentai's catalog continues to grow with new favorites like Bloom Into You, Revue Starlight and O Maidens in Your Savage Season, as well as classic anime series such as Legend of the Galactic Heroes and The Big O. For more information, visit www.sentaifilmworks.com.
###