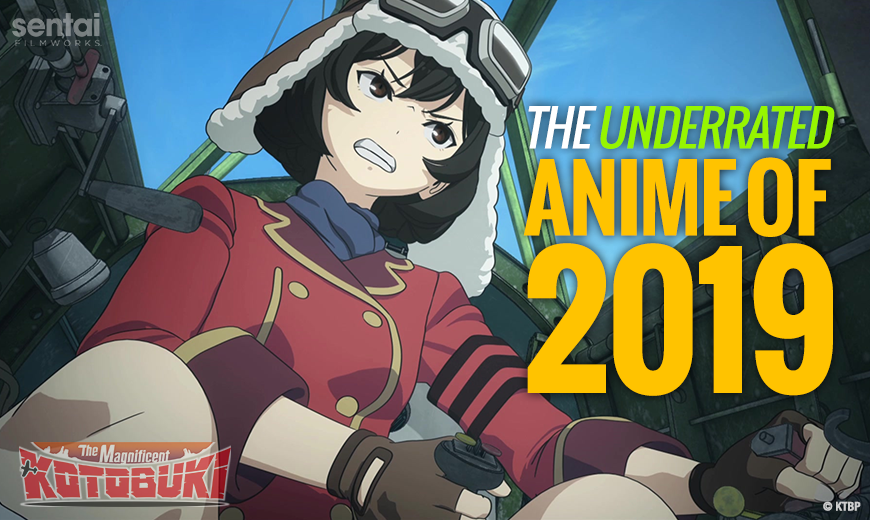 The Underrated Anime of 2019 You NEED to Watch
---
Let's face it: Tons of amazing anime air each season, and no one has the time to watch everything. (Challenge accepted!) We're willing to bet a few gems flew under your radar in 2019. Read on to learn more about our favorite underrated anime of 2019 that you owe it to yourself to watch!
SPOILERS LIE AHEAD!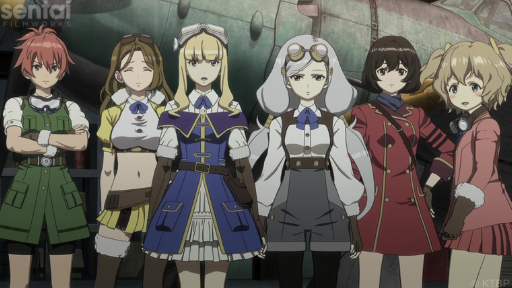 Who would've thunk an anime about aerial dogfights could fascinate us the way The Magnificent KOTOBUKI did earlier this year? Every week we waited to see what the spunky, fast-talking young women of the KOTOBUKI Flight Corps would get up to next, and they didn't disappoint. From high-flying heists to infiltration missions to escorting one of the last fish in existence across the perilous, air-pirate-riddled skies, their exploits in a desolate, alternate universe were as entrancing as they were pulse-pounding.
And that's saying nothing of the impressive detail poured into the depictions of the historical single-prop planes that populate that universe. From the sound engineering to the planes' designs to the animation of the dogfights, the show boasts a level of accuracy and research that thrilled the aviation enthusiasts in our office to no end. If you have even a passing interest in aviation (not to mention post-apocalyptic wastelands, explosive aerial action and some of the snappiest dialogue we've ever seen), this show is a can't-miss treasure.
Spring: Senryu Girl Finds a Place in Our Hearts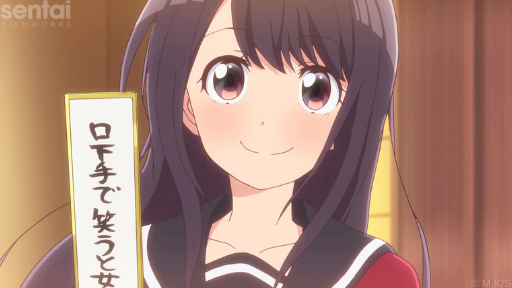 We can't praise Senryu Girl enough — and not just because its loving depiction of poetry made our copywriters super happy. From its heartwarming premise to its cast of lovable, unique characters, the show grabbed our hearts from the very first episode and never let go. Nanako (who only communicates through writing senryu poetry) reminds us to embrace the differences that make us who we are, and she brings with her an ensemble cast of loveable misfits who drive the message home with humor, irreverence and "d'awwww" moments galore.
And if you love "d'awwww" moments, you should know that Nanako and Eiji are the cutest almost-couple EVER. Their blossoming feelings for one another consistently capture the essence of what it's like to experience first love... but their will-they-won't-they dynamic never gets old thanks to Senryu Girl's excellent use of its short format, which keeps viewers engaged for every drop of adorableness the characters have to offer. Suffice to say, this is one slice-of-life iyashikei story you don't want to miss.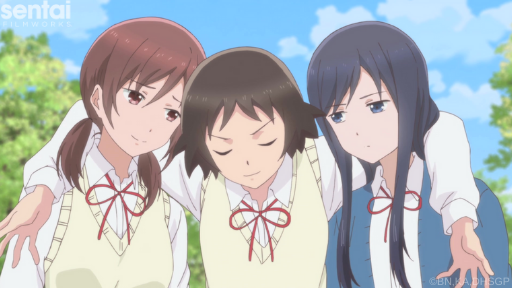 Hey… can we say something amazing right now?
Never mind that. We won't pose an unanswerable question about the origin of underwear. But if you're into that sort of thing, you'll get a kick out of protagonist Baka, who begins every single episode of Wasteful Days of High School Girls with an "amazing" commentary on everything from convenience store miracles to the purpose of chest hair to the aforementioned origin of underwear (of the heart). Her hilarious opening gag sets the tone of this slice-of-life comedy series, which had us rolling on the floor with every episode.
Speaking of setting the tone: You know those anime series that begin with a young heroine daintily running to school with a piece of toast in her mouth after waking up late? The first episode of this series opens with tardy Baka lumbering to school huffing like a freight train with an entire bag of bread in her mouth in a parody of those scenes, which should give you some idea of this series' sense of humor. Each episode is CHOCK FULL of moments that had us spitting, and — you know what? We think showing you a clip from our friends over at HIDIVE might be the best way to convince you to give this stellar comedy series a watch.
Also: Wasteful Days of High School Girls has the best OP of the season. Probably of the year. "Wa! Moon! Das! Cry!" (performed by the show's lead seiyuus) and its accompanying stop-motion-style animation are so fresh and different, we didn't fast-forward through the OP even once during the series' initial run.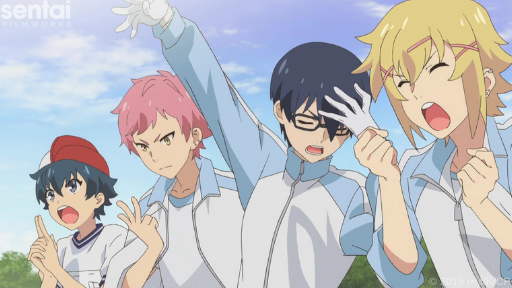 We have a soft spot for chunibyo characters, so it makes sense we'd fall HARD for Outburst Dreamer Boys and its cast of five (!!!!!) chunibyo characters. Each member of the chunibyo-filled Hero Club is hilarious in their own way, from Black's over-the-top dramatics to Noda's bright enthusiasm to Yellow's unabashed love for animated idols. It's tough to pick a favorite character when they're all so entertaining — not to mention genuine. None of them waste energy trying to conform, remaining true to who they are no matter the situation. That earnestness helps the series avoid a certain level of awkwardness one expects from chunibyo characters and fills this anime series with an endearing sense of heart.
Mizuki herself is a wonderful point-of-view character who reacts realistically to the antics of the chunibyo boys of the Hero Club, too. At first she's put off by their theatrics, but soon she realizes how much raw fun they are, and her early feelings of revulsion morph into an honest friendship. Watching her navigate the eccentric members of the Hero Club is a rollicking good time, reminding us not to take life too seriously and to remember to cut loose sometimes. Don't overlook this comedy, because it's as unique as the boys of the Hero Club believe they are inside.
What are You Waiting For? Time to Uncover These Underrated Anime Gems!
From aerial dogfights to Japanese poetry to hilarious shenanigans, our underrated anime of 2019 are sure to please even the pickiest of anime aficionados. It's worth the time investment to check out these hidden gems, so what are you waiting for? Sit back, relax, and enjoy some of our favorite lesser-known titles of 2019.
Excited for the next season of anime gems? Sign up for our newsletter for more of our great anime in 2020! What was your favorite underrated anime of 2019? Let us know by sending us a message @SentaiFilmworks on Twitter, Facebook or Instagram!