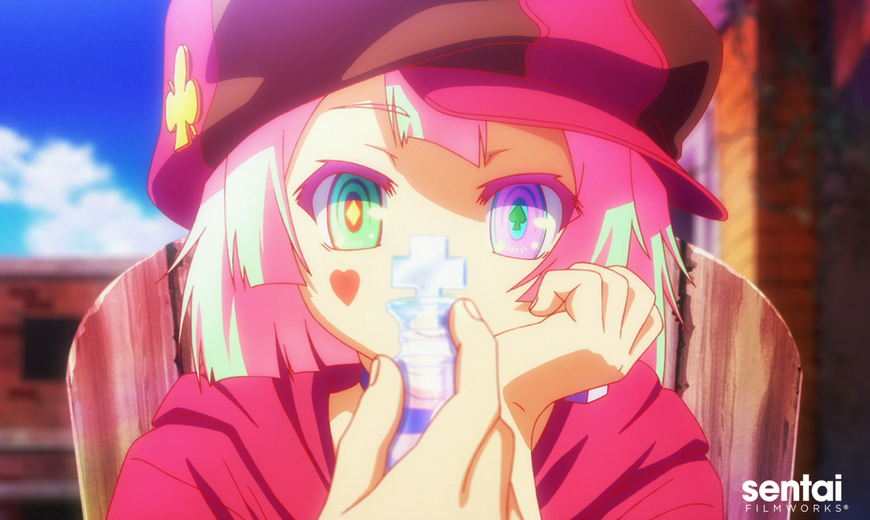 Tickets on Sale Now for 'No Game No Life Zero' Special Two-Night Cinema Event
---
HOUSTON, SEPTEMBER 8, 2017 – No Game No Life Zero will kick off its distribution to U.S. audiences for a special two-day Fathom Events showing in movie theaters nationwide on October 5 and 8. Tickets and more information are now available at nogamenolifezero.com.
Moviegoers will get to experience the full feature as well as a special introduction, director commentary, voice actor commentary and more, created exclusively for audiences of this two-day screening.
The Japanese audio with English subtitle screening will take place on Thursday, October 5, 2017.
The English dub screening, directed by Sentai Filmworks ADR Director Kyle Colby Jones and starring Scott Gibbs and Caitlynn French, will take place on Sunday, October 8, 2017.
The highly-anticipated feature No Game No Life Zero is the prequel story to the fan-favorite 2014 anime series, No Game No Life. The story takes place 6,000 years before Sora and Shiro were even a blink in the history of Disboard. War consumed the land, tearing apart the heavens, destroying stars, and even threatening to wipe out the human race. Amid the chaos and destruction, a young man named Riku leads humanity toward the tomorrow his heart believed in. One day, in the ruins of an Elf city, he meets Schwi, a female exiled "ex-machina" android who asks him to teach her what it means to have a human heart.
For more information, to purchase tickets to a No Game No Life Zero screening near you, visit nogamenolifezero.com.
For Sentai Filmworks' latest announcements regarding this and other great titles, be sure to like us on Facebook and follow us on Twitter.
About Sentai Filmworks, LLC
Sentai Filmworks is a leading global supplier of anime and official anime merchandise, distributing, and curating one of the industry's most diverse libraries of top trending and classic titles. Offering thousands of hours of content across both traditional and digital platforms, Sentai is dedicated to bringing captivating stories and iconic characters directly from Japan. With hit series that include Parasyte –the maxim–, No Game, No Life, Food Wars!, Is it Wrong to Try to Pick Up Girls in a Dungeon?, and Akame ga Kill!, Sentai's catalog continues to grow with new favorites like Himouto! Umaru-chan and Monster Musume: Everyday Life with Monster Girls, as well as classic anime series such as Legend of the Galactic Heroes. For more information, visit www.sentaifilmworks.com.
About Azoland Pictures, LLC
Azoland Pictures is a film distribution company that offers Japanese anime and live-action films to the audience in North America. The company also organizes movie premieres, anime related film festivals, and J-Pop events in the Los Angeles area. In 2017, Azoland Pictures has theatrically distributed Kizumonogatari Part 3: Reiketsu and Sword Art Online The Movie – Ordinal Scale – English dub. More information available at www.azolandpictures.com.
About Fathom Events
Fathom Events is recognized as the leading domestic distributor of event cinema with participating affiliate theaters in all 100 of the top Designated Market Areas®, and ranks as one of the largest overall distributors of content to movie theaters. Owned by AMC Entertainment Inc. (NYSE: AMC), Cinemark Holdings, Inc. (NYSE: CNK) and Regal Entertainment Group (NYSE: RGC) (known collectively as AC JV, LLC), Fathom Events offers a variety of one-of-a-kind entertainment events such as live, high-definition performances of the Metropolitan Opera, dance and theatre productions like the Bolshoi Ballet and National Theatre Live, sporting events like "Canelo Álvarez vs. Julio César Chávez, Jr.," concerts with artists like Michael Bublé, Rush and Mötley Crüe, the yearlong TCM Big Screen Classics film series, inspirational events such as To Joey With Love and Facing Darkness, and anime titles such as Princess Mononoke and Spirited Away. Fathom Events takes audiences behind the scenes and offers unique extras including audience Q&As, backstage footage and interviews with cast and crew, creating the ultimate VIP experience. Fathom Events' live digital broadcast network ("DBN") is the largest cinema broadcast network in North America, bringing live and pre-recorded events to 897 locations and 1,387 screens in 181 DMAs. For more information, visit www.fathomevents.com.