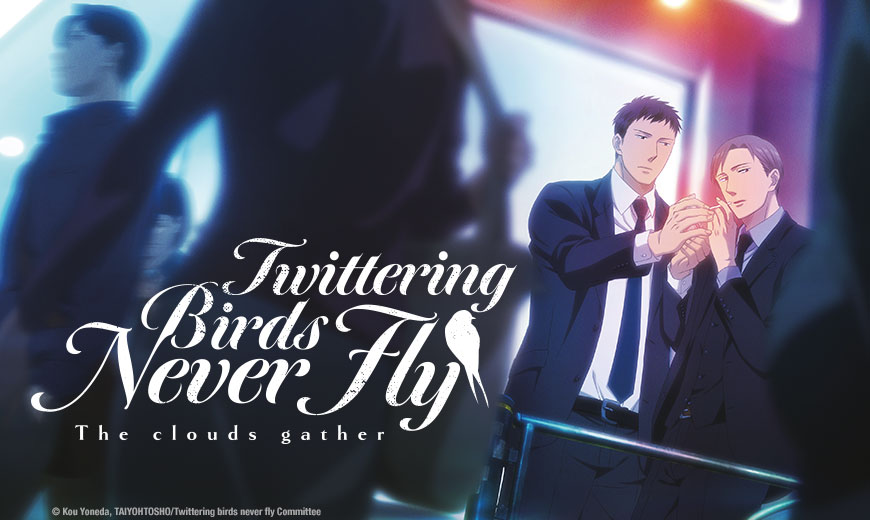 "TWITTERING BIRDS" SOARS TO SCREENS ON DECEMBER 11, 2020
---
Get ready for a visually stunning, highly visceral experience with Twittering Birds Never Fly – the clouds gather –, a gritty BL film that blends elements of classic noir cinema with stark eroticism, creating an unforgettable atmosphere that will leave audiences transfixed.
DIGITAL SCREENINGS START DECEMBER 11, 2020
Available via Eventive's digital cinema experience, Twittering Birds Never Fly - the clouds gather- is the first chapter of a film trilogy depicting the complicated relationship between Domeki and Yashiro, two Yazkua who find themselves caught in the crosshairs of attraction.
Viewers can book a virtual screening through a local theater or through Sentai. By purchasing a virtual ticket through a participating theater, anime fans can support their local businesses even while social distancing.
MORE ABOUT TWITTERING BIRDS NEVER FLY - THE CLOUDS GATHER -
Seiyuus Wataru Hatano (Hitorijime My Hero) and Tarusuke Shingaki (My Hero Academia 4) starred in the audio drama adaptation of Twittering Birds Never Fly, and they will reprise the roles of Chikara Domeki and Yashiro for the Twittering Birds Never Fly films. Kaori Makita (Banana Fish, episode director) is poised to direct while Hiroshi Seko (Ajin: Demi-Human) provides the script.
The manga series upon which the films are based was shortlisted for the Sugoi Japan Award in 2016 and was named a highly recommended yaoi title in a nationwide survey of employees of Japanese bookstores, making this film a must-watch for BL fans everywhere.
WANT A SNEAK PEEK? CHECK OUT THE TRAILER BELOW!
Twittering Birds Never Fly -the clouds gather -, the trilogy's first installment, introduces two steely members of the Yakuza, each with secrets in their past, who occupy trusted and feared positions in the Japanese underworld. Recent parolee, Doumeki, is assigned to guard Yashiro, a mid-level enforcer who deals out daily doses of coercion, retribution and other criminal acts with brutal efficiency. But behind closed doors, their relationship quickly becomes psychologically and physically complicated. Theirs is a story entanglement, tension, power and control.
Purchase your tickets to a digital screening of Twittering Birds Never Fly - the clouds gather - today.