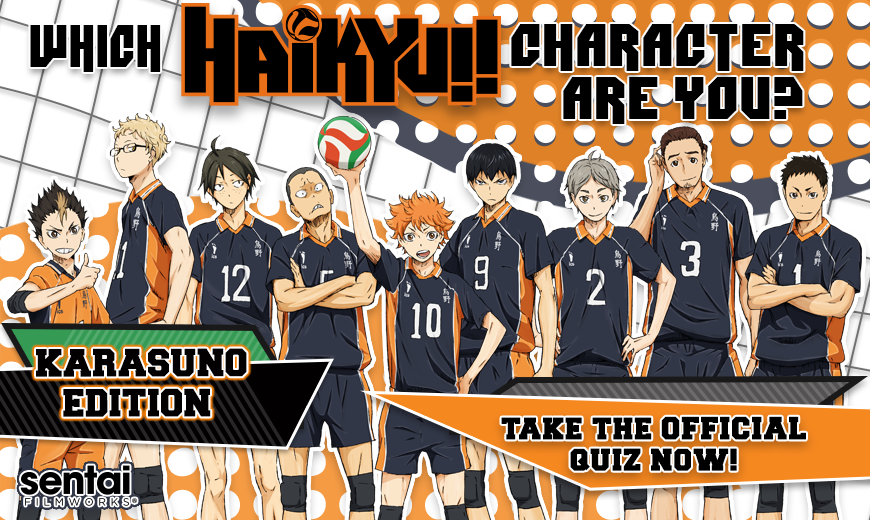 Which Haikyu!! Character Are You? Karasuno Edition [QUIZ]
---
"Because people don't have wings, they look for ways to fly." - Coach Ukai
With Haikyu!! Season 1 out on DVD and Blu-ray, and Haikyu!! Season 2 just wrapping up on streaming, it's almost unbelievable that the show could get any more intense! We may be going through a Haikyu!! withdrawal. Common symptoms include: seeing crow and royalty imagery in everything; reading all the fanfic; scrubbing Tumblr for any bits of info you can find - that's just to name a few. Amid binge watching both seasons and avoiding manga spoilers, we decided to pass the time with a quiz and buying physical copies of the series!
Which of the Karasuno players are you? Are you the energetic Hinata? The perpetually severe Kageyama? Find out in this quiz!
Take the Quiz!
Find out which Haikyu!! Karasuno player you are, and share your results on Facebook, Twitter and Tumblr!
Stream Haikyu!! on HIDIVE!
Full episodes of Haikyu!! are available for streaming from HIDIVE! Don't miss a single spike or quick, and follow us on Facebook, Twitter, Tumblr, Instagram and Google+ for all Haikyu!! news!