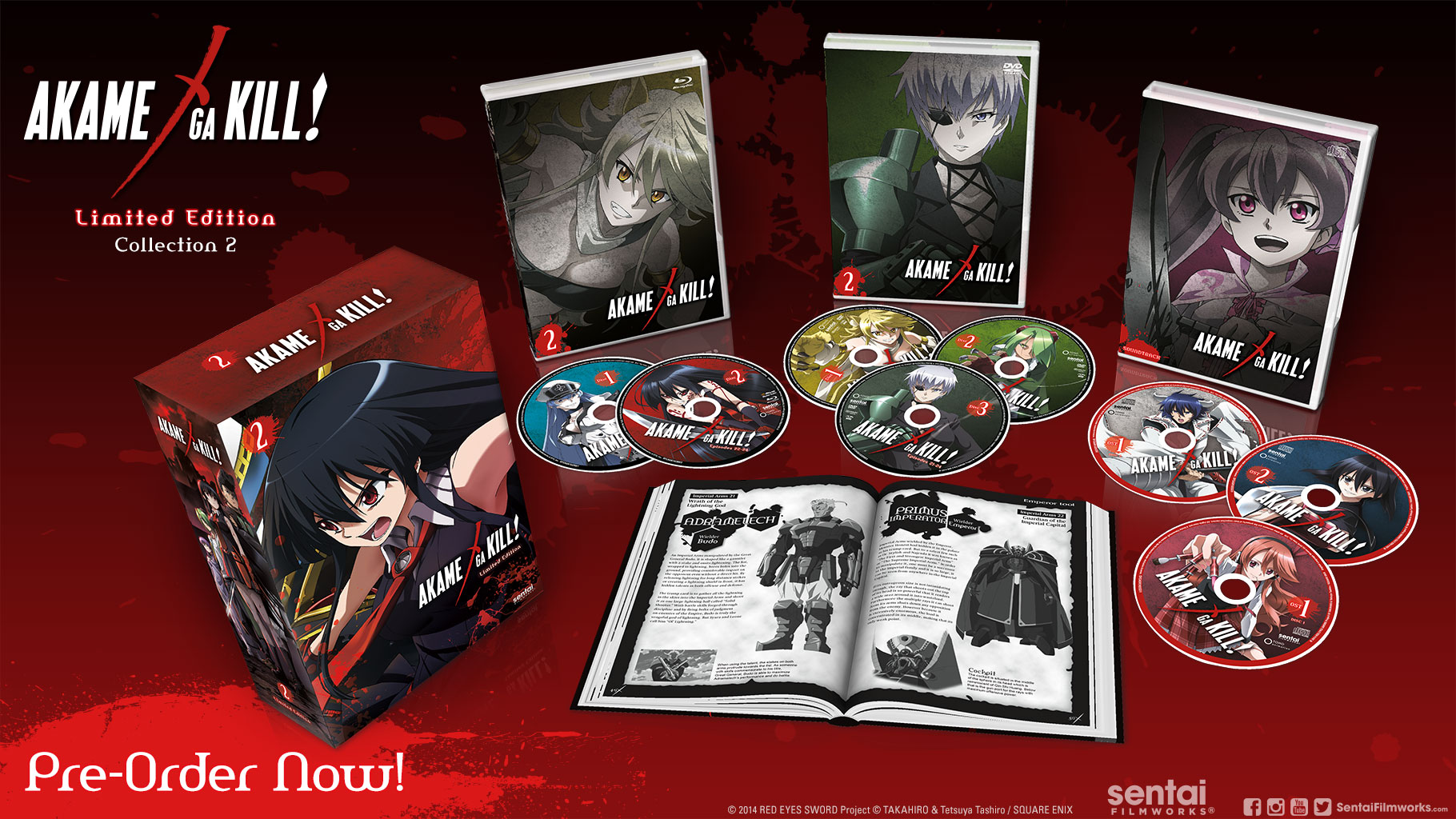 Akame ga Kill! Collection 2 Premium Box Set Contents Revealed
It's time to close the curtain on the last act of the Revolution. The stage is set for an epic final chapter, and the Akame ga Kill! Collection 2 Premium Box Set is ready to come home with you!
Chipboard Box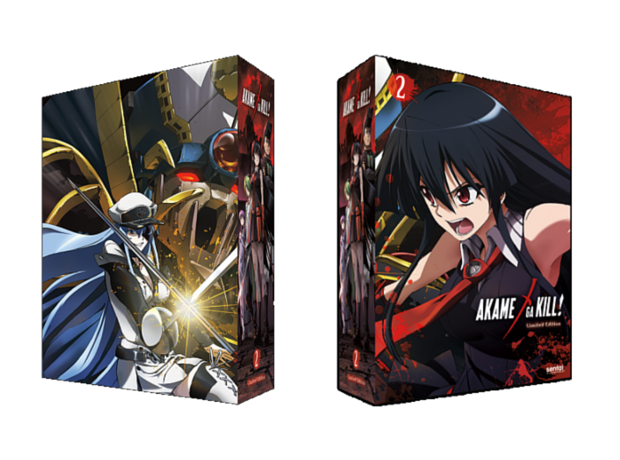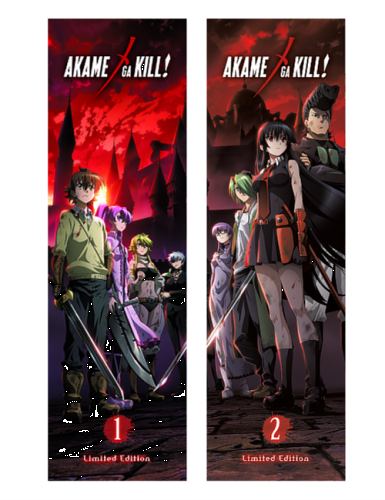 Collection 2 was designed to be displayed beside Collection One on your shelf. The spine of the sturdy chipboard box features art that completes the full cast picture, reuniting this unforgettable group of characters in one consolidated image.
DVD/Blu-Ray Combo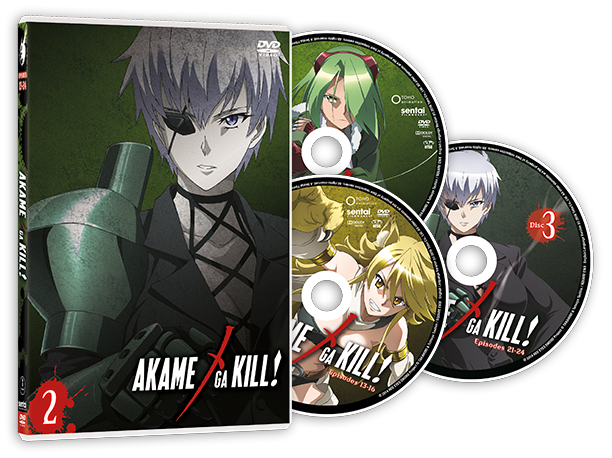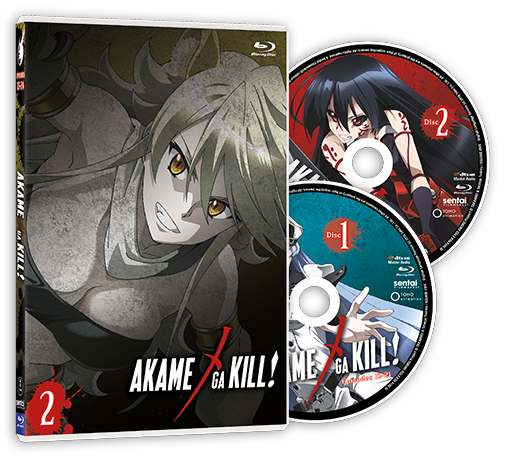 The Akame ga Kill! Collection 2 Limited Edition Premium box set will come with both Blu-ray and DVD versions of episodes 13 – 24. Each disc will have its own unique disc art, featuring a character from the series, including the ice queen Esdeath herself! Disc Extras include:
Japanese promos
Clean open and close animations
AkaKill! Theatre

A New Hideout
A Serious Love
Seryu's Fun Safety Class
Mom's Memories… ?!
Haunted House
Flash of Lightning! Susanoo
Shura's Comedy
TV Shopping, Part 3
A Folk Talk: The Grateful Crane
Akame and Kurome
Setting Out on a Journey
Wrap Party
All the Extras!
You didn't think we'd send you off without additional goodies, did you?
Original Soundtrack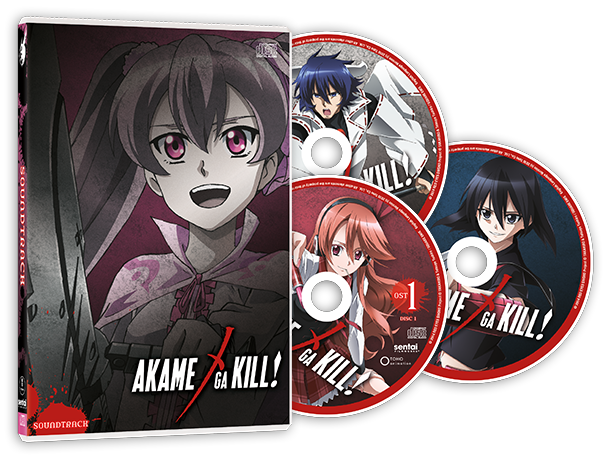 Have you ever wanted to drive with battle music blasting from your speakers? Well, we are in the business of making dreams come true. They say that life would be better if you have your own soundtrack, but adding the Akame ga Kill! soundtrack to your music library is sure to elevate it to all kinds of action-filled new heights. This collection includes three discs filled with your favorite sounds from the show.
The Black Book: Hardcover Collector's Booklet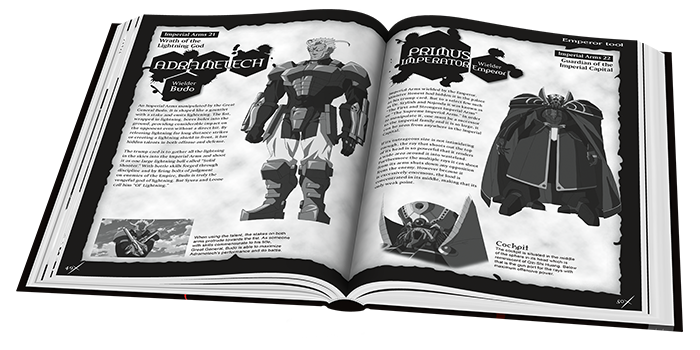 This collector's booklet is faithfully recreated from the original Japanese booklets, which contains a number of black and white as well as full color pages. This "Black Book" (of spoilers) is the counterpart to Collection One's "Red Book," featuring extra content on your favorite group of dynamic "antagonists", the Jaegers.
Akame ga Kill! Collection 2: Now Available for Pre-order
Like all of the premium box sets at Sentai Filmworks, the Akame ga Kill! Collection 2 PBS is available only for a limited time! Complete your collection today.