Tuesday New Releases: Yamishibai: Japanese Ghost Stories
Here's a treat for you anime horror fans. It's time for Yamishibai: Japanese Ghost Stories to join your collection! Today's new release consolidates the first AND second season of this horror anime series, and even though the episodes are short, their ability to give you the creepy-eerie-skin-crawly feeling has lasting effects.
Tuesday New Releases: April 19, 2016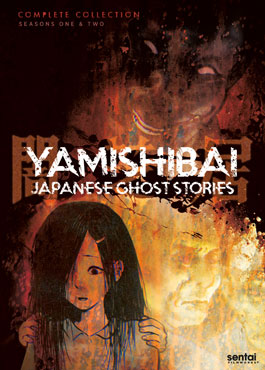 Ghosts. Curses. Demons. If you crave tales of terror and seek mysteries that defy explanation, go to the park at 5. That's when the man in the yellow mask will arrive with his kamishibai, the paper theater, to tell his sinister stories of Japan's darkest side. But be warned: this storyteller's works may do more than simply send shivers down your spine. Because the more fascinated you become with the supernatural, the more the supernatural may become fascinated with you. Enter a world where the closest of friends can become the deadliest of enemies, where the most mundane of objects can become hair-raising nightmares, and not even one's own family can be trusted to remain human. Dare to pierce the veil of darkness and a realm of ultimate horror awaits as you discover YAMISHIBAI - JAPANESE GHOST STORIES!
Genres: Horror, Supernatural
Rating: TV-14