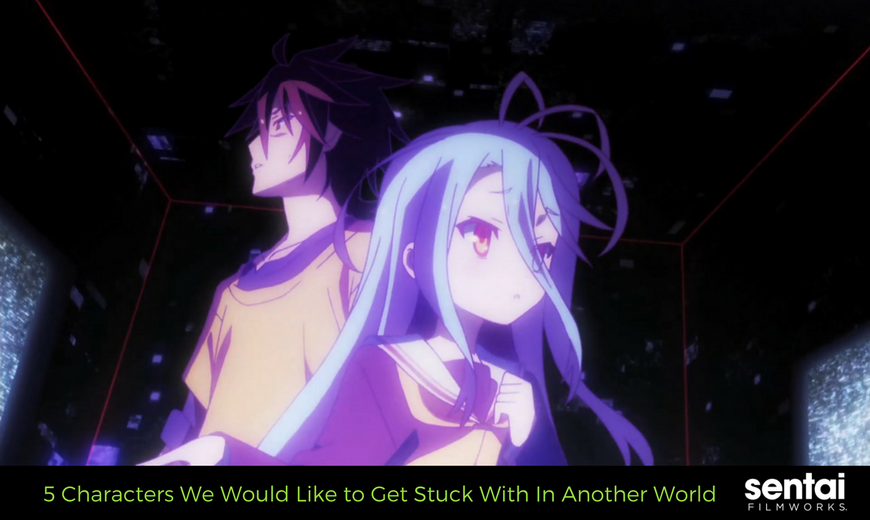 5 Characters We Would Like to Get Stuck With In Another World
---
Inspired by some of our favorite isekai anime, we thought about which anime characters we would like to get stuck with in another world. It's all about wits, strength and the ability to have a good sense of humor while the world starts to crumble. It's anime after all! Here are some characters we would trust with our lives.
It's not a hard decision to choose these two master gamers from an actual video game anime! Shiro and Sora would be the best partners to end up with being that they can pretty much beat any game together. The only tough part will be that they're pretty much useless if they're separated…We can live with that.
If we were all of the sudden stuck in a video game world and we had to create a whole new society, Shiro would be the guy to follow. His strategic mind would allow us to recreate a semblance of our ordinary lives but also enable us to flourish in this new terrain. Shiro isn't afraid of shaking things up and protecting those he cares about.
There is no better person to take on a dungeon raid than Bell Cranel. With his ability Liaris Freese, we believe being stuck with Bell as our partner wouldn't be such a bad thing, especially if it means catching glimpses of the beautiful patron goddess Hestia. An honest guy and hard worker, Bell would always have our backs!
Yoji Itami (GATE)

Of course, our otaku loving friend would be a MUST in any fantasy world. Who else would be able to recognize the types of races in a fantasy game as well as their weaknesses? Itami is dependable, kind and is always willing to lend a hand to those in need. Itami would be a great teammate, and there would never be a dull moment!
Based off a murder mystery game, we thought the girls from this series would be perfect to keep us safe in another world… for a little while at least. These ladies might be a little off, but at least they'll protect you (when it's in their best interest). Let's just hope we don't end up mysteriously missing.
Who Would You Take?
We love anime for its colorful characters and endearing personalities. Who would YOU like to get stuck with in another world? Tell us by tagging @sentaifilmworks on Facebook or Twitter.