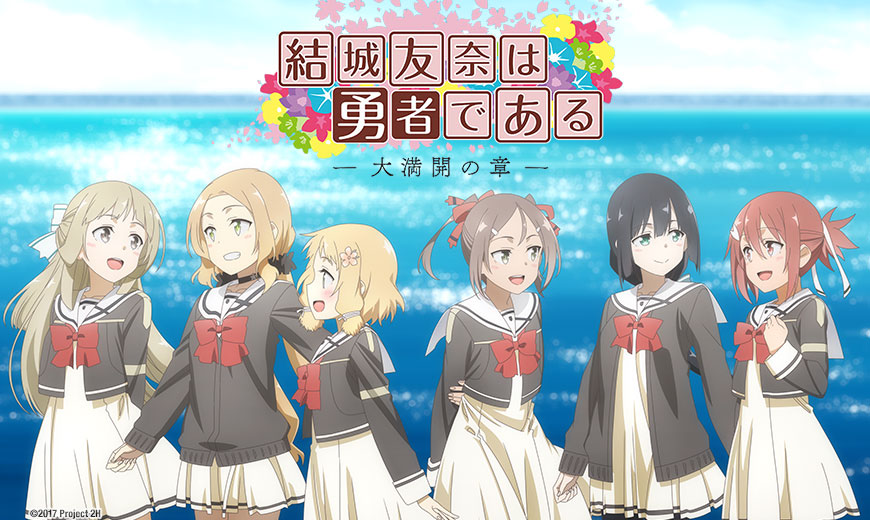 Sentai Acquires "Yuki Yuna is a Hero: The Great Mankai Chapter"
---
HOUSTON, TX — August 20, 2021 — Sentai announced today that it acquired the third season of magical girl anime Yuki Yuna is a Hero for streaming and home video. Sentai will stream Yuki Yuna is a Hero: The Great Mankai Chapter in Fall 2021 to audiences in the United States, Canada, the United Kingdom, Ireland, Australia, New Zealand, Latin America, Nordic countries, the Netherlands, South Africa, Spain and Portugal.
The magical girls of the Sanshu Middle School Hero Club have one goal: to make people smile whenever they can and to always help those in need. Through teamwork and the help of their magical powers, Yuna, Mimori, Fuu, Itsuki, Karin and Sonoko have vanquished deadly Vertexes, recovered a missing friend and balanced their lives as magical girls and regular middle school students. Now a new adventure begins, one that will test their skills and their bond as friends alike.
The third season of Yuki Yuna is a Hero is produced by Studio Gokumi (The Severing Crime Edge, Seiren, Tsuredure Children) and is directed by Seiji Kishi (Angel Beats!, Assassination Classroom, Tsukigakirei). Makoto Uezu (BORUTO NEXT GENERATIONS, Konosuba: God's Blessing on This Wonderful World!, KENGANASHURA) provides series composition while MONACA (Wake Up, Girls!, My Teen Romantic Comedy SNAFU, Nisemonogatari) handles the season's music.
The series stars Haruka Terui (Haikyuu!!, Engaged to the Unidentified, Grimgar: Ashes and Illusions) as Yuna Yuki, Suzuko Mimori (Revue Starlight, Btooom!, Kamisama Kiss) as Mimori Togo, Yumi Uchiyama (Mushoku Tensei: Jobless Reincarnation, Sabage-bu!, Brynhildr in the Darkness) as Fu Inubozaki, Tomoyo Kurosawa (Land of the Lustrous, O Maidens in Your Savage Season, BanG Dream! 2nd Season) as Itsuki Inubozaki, Juri Nagatsuma (Love, Chunibyo & Other Delusions!: Heart Throb, Waiting in the Summer, Tamako Market) as Karin Miyoshi and Kana Hanazawa (Senryu Girl, The Garden of Words, Psycho-Pass) as Nogi Sonoko.
In addition to the third season of the anime series, Sentai will also release seasons 1 and 2 of Yuki Yuna is a Hero as well as Yuki Yuna is a Hero: Churutto!, a collection of shorts set in the universe of the main series. Sentai will release Yuki Yuna is a Hero: The Great Mankai Chapter in association with select digital outlets in Fall 2021, with a home video release to follow.
For Sentai's latest announcements regarding this and other great titles, be sure to like us on Facebook and follow us on Twitter.
About Sentai
A Cool Japan Fund portfolio company, Sentai is a leading global supplier of anime and official anime merchandise, distributing and curating one of the industry's most diverse libraries of top trending and classic titles. Sentai offers thousands of hours of content across both traditional and digital platforms and is dedicated to bringing captivating stories and iconic characters directly from Japan. With hit series that include MADE IN ABYSS, Food Wars!, Princess Tutu and Parasyte -the maxim-, Sentai's catalog continues to grow with new favorites like Bloom Into You, Revue Starlight and O Maidens in Your Savage Season, as well as classic anime series such as Legend of the Galactic Heroes and The Big O. For more information, visit www.sentai.com.
###