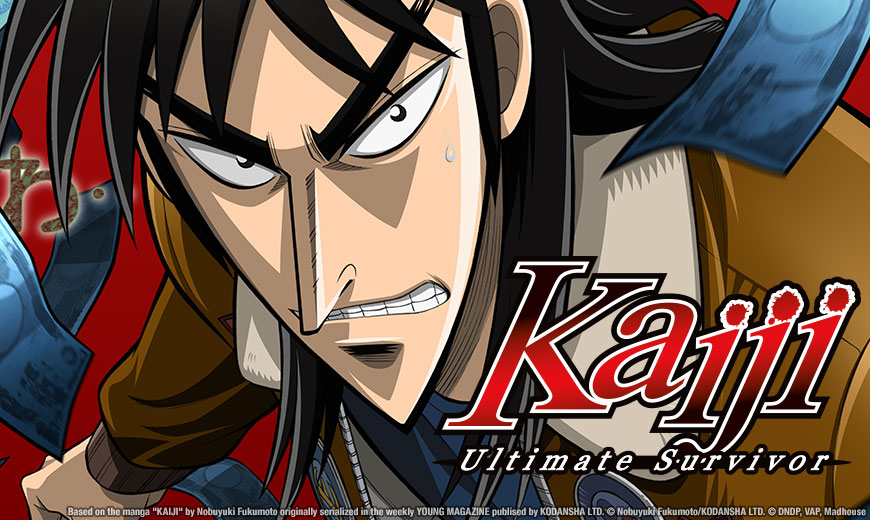 HOUSTON, TX — November 18, 2020 — Sentai announced today that it acquired Kaiji, the amusingly sinister, 52-episode survival series produced by Madhouse and based on the manga of the same name. Sentai previously licensed Kaiji spinoff series, Mr. Tonegawa - Middle Management Blues -. Sentai will distribute the series in the Unites States, Canada, the United Kingdom, Ireland, Australia, New Zealand, the Netherlands, Scandinavia, Central America, South American, South Africa, Spain and Portugal.
Kaiji Ito has serious issues. Not only is he a social misfit, but he's also a deadbeat petty gambler. After he gets duped into co-signing a loan for his friend, he's stuck owing the Yakuza millions! Things start looking up when he's given the opportunity to win his life back by gambling with other lucky participants on a mysterious casino ship, but he quickly realizes that more than just money is at stake. Soon Kaiji and the other contestants discover the depths of human depravity when there is nothing left to lose — except their lives.
Produced by VAP (Elfen Lied, MONSTER), Nippon Television Network (Parasyte -the maxim-, Run with the Wind) and Madhouse Studio (No Game, No Life, DEATH NOTE), Kaiji is directed by Yuzo Sato (GOKUSEN, Bio Hunter) with series composition from Hideo Takayashiki (Maison Ikkoku, ONE OUTS). The series stars Masato Hagiwara (Mr. Tonegawa - Middle Management Blues -, The Place Promised in Our Early Days) as Kaiji Ito, Toshiharu Sakurai (Love Lab, The Heroic Legend of Arslan) as Mamoru Ando, and Naoya Uchida (Naruto Shippuden, VINLAND SAGA) as Yuji Endo.
The series will be available to stream on select digital outlets with a home video release to follow. The home video collection encompasses both seasons of the anime series, including all 26 episodes of Kaiji -Ultimate Survivor- and all 26 episodes of Kaiji -Against All Rules-.
For Sentai's latest announcements regarding this and other great titles, be sure to like us on Facebook and follow us on Twitter.
About Sentai
A Cool Japan Fund portfolio company, Sentai is a leading global supplier of anime and official anime merchandise, distributing and curating one of the industry's most diverse libraries of top trending and classic titles. Sentai offers thousands of hours of content across both traditional and digital platforms and is dedicated to bringing captivating stories and iconic characters directly from Japan. With hit series that include Mr. Tonegawa - Middle Management Blues -, MADE IN ABYSS, Food Wars!, Princess Tutu and Parasyte -the maxim-, Sentai's catalog continues to grow with new favorites like Bloom Into You, Revue Starlight and O Maidens in Your Savage Season, as well as classic anime series such as Legend of the Galactic Heroes and The Big O. For more information, visit www.sentaifilmworks.com.
###