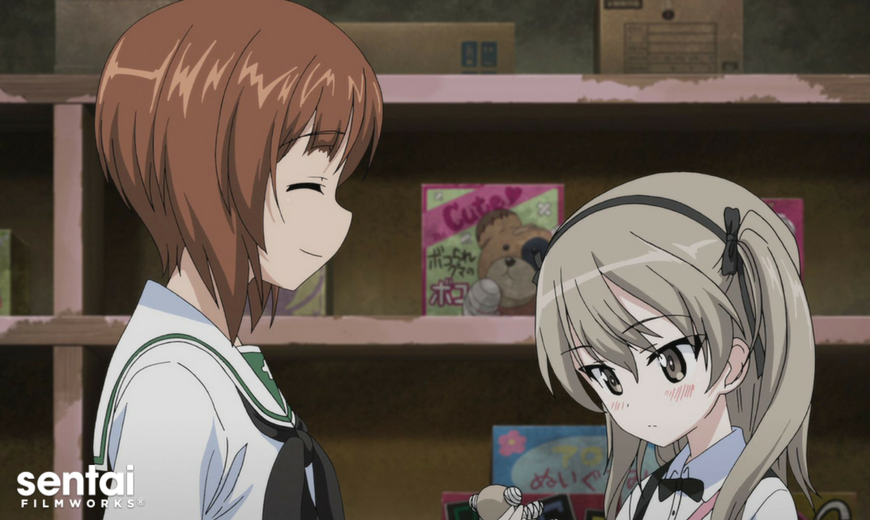 Sentai Filmworks Announces Canadian Release of Girls und Panzer der Film
---
Following its U.S. Debut, Girls Und Panzer Der Film to Hit More Than
30 Canadian Cities on January 26, 2017
HOUSTON, January 17, 2017 – Sentai Filmworks, a leading independent distributor of Japanese anime and pop culture programming, announced today its Canadian release schedule for the English-dubbed, critically acclaimed, and record-breaking Japanese anime film, Girls und Panzer der Film. Beginning January 26, 2017, Girls und Panzer der Film will screen in more than 30 major Canadian cities, including: Calgary, Edmonton, Vancouver, Toronto, Montreal, and Ottawa.
"Girls und Panzer der Film has a massive global fan following – from its record-breaking run in Japan, to its national U.S. release – and we know Canada has an immense fan base," said John Ledford, President and CEO of Sentai Filmworks. "Girls und Panzer der Film devotees love the movie's action, humor, unique storyline, and - of course - the girls rocking the artillery tanks, and we're thrilled we can bring this big screen experience to Canadian fans."
Girls und Panzer der Film picks up where the successful television series, Girls und Panzer, left off: in a society where humanity exists in cities built atop gigantic carrier ships. Now the girls of the Ooarai High School tankery team must pull together to defeat their foes and save their beloved school.
The movie, released in 2015 in Japan, was ranked the highest-grossing movie of its opening weekend and earned more than $24 million (USD) total at the Japanese box office. The film won the prestigious Seiun Award Best Dramatic Presentation and the Sanctuary Award from the 25th Japan Movie Critics Award. The English-dubbed movie is directed by Kyle Colby Jones, whose credits include No Game No Life, Parasyte -the maxim-, Akame ga Kill!, and Monthly Girls' Nozaki-kun. Additionally, Margaret McDonald (Miho), Rebekah Stevens (Yukari), Jessica Calvello (Saori), Caitlynn French (Hana), and Molly Searcy (Mako) reprise their roles from the TV series.
Girls und Panzer der Film made its U.S. debut in November 2016 in San Francisco's NEW PEOPLE Cinema and has been well-received by critics and fans alike, who have praised the dub quality and its powerful sound design and effects. Together with Los Angeles-based distributor, ELEVEN ARTS, the film was shown in more than 30 major markets, including: New York, Los Angeles, San Francisco, Dallas, Houston, and Boston.
For its Canadian release, Sentai Filmworks and ELEVEN ARTS will begin screening Girls und Panzer der Film beginning January 26, 2017. Fans can check the most updated schedule via Girls und Panzer der Film.
For more information, including the movie trailer and cast and credits, please visit:
For Sentai Filmworks' latest announcements regarding this and other great titles, be sure to like us on Facebook, and follow us on Twitter and Instagram.
About Sentai Filmworks, LLC
Sentai Filmworks is a leading global supplier of anime and official anime merchandise, distributing and curating one of the industry's most diverse libraries of top trending and classic titles. Offering thousands of hours of content across both traditional and digital platforms, Sentai is dedicated to bringing captivating stories and iconic characters directly from Japan. With hit series that include Parasyte –the maxim–, No Game, No Life, Food Wars!, Is it Wrong to Try to Pick Up Girls in a Dungeon?, and Akame ga Kill!, Sentai's catalog continues to grow with new favorites like Himouto! Umaru-chan and Monster Musume: Everyday Life with Monster Girls, as well as classic anime series such as Legend of the Galactic Heroes. For more information, visit www.sentaifilmworks.com.
About ELEVEN ARTS
ELEVEN ARTS is a Los Angeles based film production/distribution company known for distributing high quality Japanese films, both live-action and animation, to North American audiences. ELEVEN ARTS's major live-action titles include: Japan Academy Awards winner Memories of Tomorrow (starring Ken Watanabe) and Oscar nominated director Yoji Yamada's samurai film Love and Honor. ELEVEN ARTS' anime titles include: Girls und Panzer der Film, Yo-kai Watch: The Movie, DIGIMON ADVENTURE tri. CHAPTER 1: REUNION, the Evangelion franchise, Fullmetal Alchemist: The Sacred Star of Milos, the Puella Magi Madoka Magica franchise, Blue Exorcist: The Movie, Expelled from Paradise, The Last: Naruto the Movie, Boruto: Naruto the Movie, and The Anthem of the Heart. For additional information, visit: www.elevenarts.net. Find us on social media: @ELEVEN_ARTS.