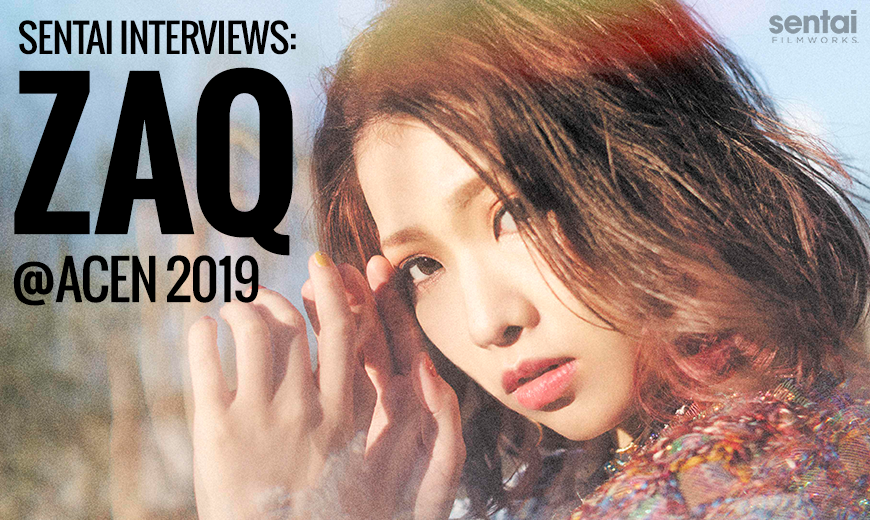 Sentai Filmworks Interviews Famous Singer ZAQ at ACEN 2019
---
Music has been a passion of ZAQ's ever since she was a child. She began playing the piano when she was just three years old and followed that passion all the way through college.
Even if you haven't heard of ZAQ before, you're probably familiar with her fantastic work. Do you remember the catchy OP from Love, Chunibyo & Other Delusions? That song was her first major debut as a singer! Since then she's performed numerous theme songs for anime series such as FLIP FLAPPERS and The Magnificent KOTOBUKI.
Sentai Filmworks had the pleasure of speaking with her at ACEN 2019, and we asked her a few questions regarding her singing career and a few of her favorite things:
Is there any one thing you are looking forward to doing in Chicago?
I've heard that it's a really big city, so I'm looking forward to exploring it.
Where do you find inspiration for your songs and performances?
I get my power from the smiles of all the fans.

Do you have any pre-concert traditions you have to get yourself ready to go on stage?
I always do some light stretches.

Do you have a favorite place to perform?
At smaller music clubs where the crowd has to squeeze in.
Is there a location that you have not performed at yet that you would love to?
I would like to try inviting a single fan on stage and sing just for them.

Since you've been all around the world, have you found a food or treat that you can't get back home that you love?
I really enjoyed a dish called "Bak kut teh" from Singapore.
What are some of your favorite shows or anime to watch while you are at home to relax?
Stuff like American cop dramas, I guess.
I like anime that I can space-out and watch, like Lupin the Third.
Who was your favorite character in The Magnificent KOTOBUKI?
I like Zara.
She's a sexy advisor who supports the leader; I think that's a cool position to be in.
What are some of the types of music that you listen to yourself? Do you have a favorite western music artist?
I listen to Hip-Hop and R&B music.
My favorite artist is Alicia Keys.
Where did you find your inspiration for the opening for The Magnificent KOTOBUKI?
The soundtracks of classic Western films.
We hope you enjoyed our interview with ZAQ. If you wish to learn more about her work, you're in luck! She's performing in a showcase concert on Friday, May 17th, 2019 from 5:00 PM - 8:00 PM in the Grand Ballroom at the Hyatt Regency O'Hare, so be sure to attend! Don't forget to check out her website as well as her Instagram and Twitter profiles. Just a heads up, they're all in Japanese. In the meantime, we hope you enjoy the rest of ACEN 2019!
Were there any questions that you wish we had asked? Let us know by tagging us with @SentaiFilmworks with the social media buttons below. And don't forget to sign up for our newsletter!