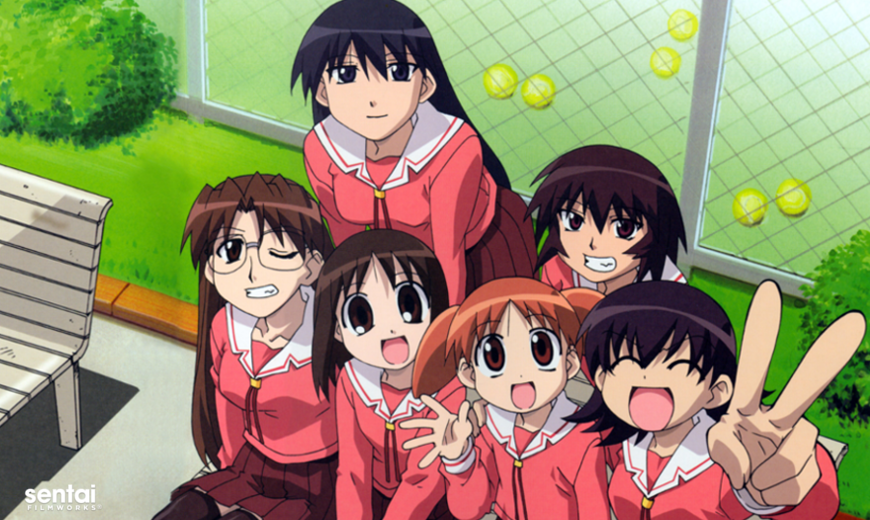 Sentai Filmworks Licenses "Azumanga Daioh"
---
HOUSTON, January 20, 2016 – Sentai Filmworks is proud to announce its latest acquisition: the classic, offbeat comedy Azumanga Daioh! Based on the original 1999 manga series written and illustrated by Kiyohiko Azuma, Azumanga Daioh is a witty romp into the misadventures of six high-school girls – Chiyo, Tomo, Yomi, Sakaki, Kagura, and a transfer student from Osaka, aptly nicknamed "Osaka." Under the "guidance" of some rather peculiar teachers, the girls try their best to survive wacky school culture festivals, bread-eating contests, a teacher obsessed with seeing his female student in short shorts, awkward (and sometimes dangerous!) trips to Chiyo's summer home, and more!
The anime series was directed in 2002 by Hiroshi Nishikiori (Trinity Seven, I'm Gonna be an Angel!, GAD GUARD), with Ichiro Okouchi (Negima!, CODE GEASS: Lelouch of Rebellion ) in charge of series composition. Production was handled by J.C.Staff (Honey and Clover, Nodame Cantabile, Detective Opera Milky Holmes).
Azumanga Daioh will soon be released on home video as part of its Sentai Selects line of classic animated features, in both dubbed and subtitled formats.
For Sentai Filmworks' latest announcements regarding this and other great titles, be sure to like us on Facebook and follow us on Twitter.
About Sentai Filmworks, LLC
Sentai Filmworks is a leading global supplier of anime and official anime merchandise, distributing and curating one of the industry's most diverse libraries of top trending and classic titles. Offering thousands of hours of content across both traditional and digital platforms, Sentai is dedicated to bringing captivating stories and iconic characters directly from Japan. With hit series that include Parasyte –the maxim–, No Game, No Life, Food Wars!, Is it Wrong to Try to Pick Up Girls in a Dungeon?, and Akame ga Kill!. Sentai's catalog continues to grow with new favorites like Himouto! Umaru-chan and Monster Musume: Everyday Life with Monster Girls, as well as classic anime series such as Legend of the Galactic Heroes. For more information, visit www.sentaifilmworks.com.