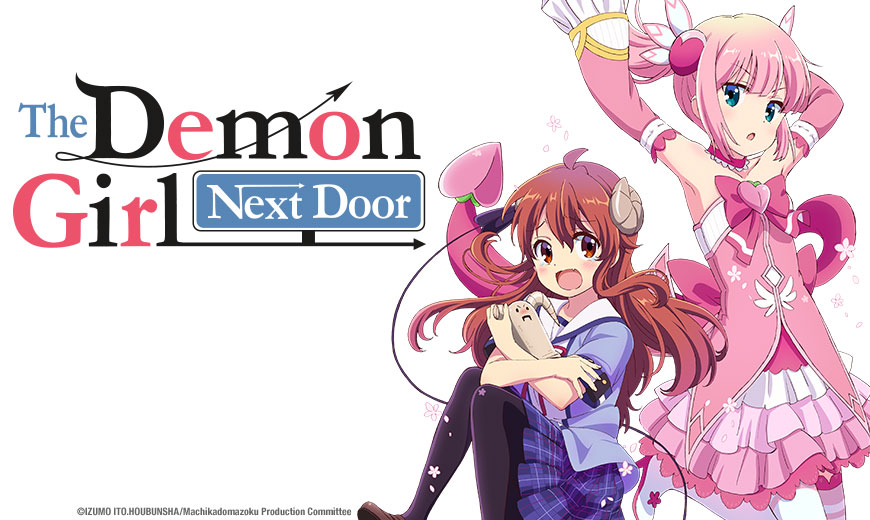 Sentai Filmworks Summons "The Demon Girl Next Door"
---
HOUSTON, TX – July 4, 2019– Sentai Filmworks announced today that it acquired exclusive rights to the supernatural series The Demon Girl Next Door, based on the manga series by Izumi Ito, through a licensing arrangement that includes the United States, Canada, the United Kingdom, Ireland, Australia, New Zealand, Latin America, Scandinavian countries, the Netherlands, South Africa, Spain and Portugal.
Yuko Yoshida is just an ordinary schoolgirl — until one day her dormant, devilish powers are unleashed by the demon Lilith! Yuko transforms into Shadow Mistress Yuko, a supernatural powerhouse with horns and a devil tail. Now she must defeat another mystical being named Momo Chiyoda, the shrine maiden of the Light Clan… who just so happens to go to Yuko's school! But being a demonic magical girl isn't as easy as it looks, and Yuko has a whole lot to learn before she's ready to fulfill her destiny and take on the Clan of Light.
The Demon Girl Next Door is produced by J.C.STAFF (Flying Witch, Golden Time, The Pet Girl of Sakurasou) and directed by Hiroaki Sakurai (Revolutionary Girl Utena, Azumanga Daioh, Ouran High School Host Club). Mai Otsuka (Amagi SS, Non Non Biyori, The Familiar of ZERO) is in charge of character design.
The series stars Konomi Kohara (Tsukigakirei, Kaguya-sama: Love is War, Domestic Girlfriend) as Yūko Yoshida, Akari Kitō (Princess Principal, Demon Slayer, Tsuredure Children) as Momo Chiyoda and Minami Takahashi (FLIP FLAPPERS, Food Wars!, Is It Wrong to Try to Pick Up Girls in a Dungeon?) as Lilith.
The series will be available for the Summer 2019 simulcast season to stream on select digital outlets with a home video release to follow.
For Sentai Filmworks' latest announcements regarding this and other great titles, be sure to like us on Facebook and follow us on Twitter.
About Sentai Filmworks, LLC
Sentai Filmworks is a leading global supplier of anime and official anime merchandise, distributing, and curating one of the industry's most diverse libraries of top trending and classic titles. Offering thousands of hours of content across both traditional and digital platforms, Sentai is dedicated to bringing captivating stories and iconic characters directly from Japan. In addition to Is It Wrong to Try to Pick Up Girls in a Dungeon? and Sword Oratoria, Sentai Filmworks' hit series include MADE IN ABYSS, Land of the Lustrous, The Big O, and Parasyte -the maxim-. Sentai's catalog continues to grow with new favorites like Domestic Girlfriend, Princess Principal, and Bloom Into You, as well as classic anime series such as Legend of the Galactic Heroes. For more information, visit www.sentaifilmworks.com.
###