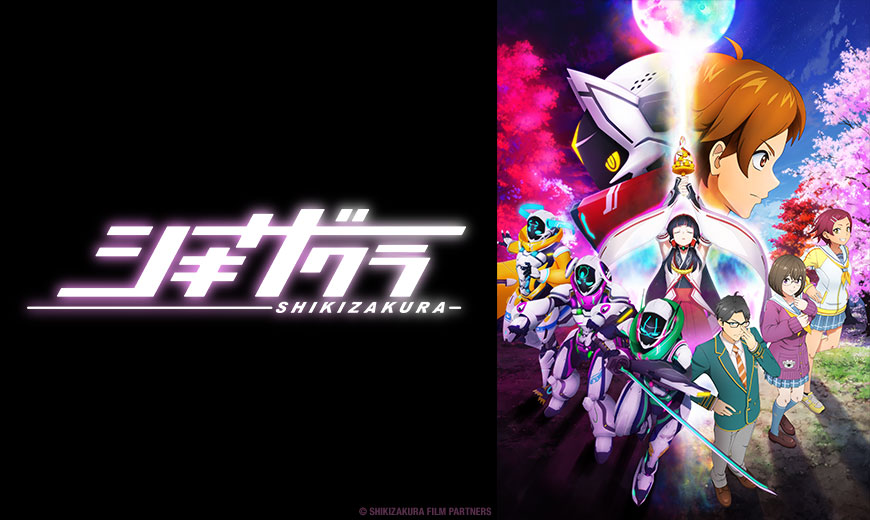 Sentai Powers Up Supernatural Anime "Shikizakura"
---
HOUSTON, TX — August 20, 2021 — Sentai announced today that it acquired Shikizakura, the original sci-fi/fantasy anime by Sublimation Studios, for release during the Fall 2021 simulcast season. Sentai and streaming partner HIDIVE will distribute the series to audiences in the United States, Canada, the United Kingdom, Ireland, Australia, New Zealand, Latin America, Scandinavia, Spain and Portugal.
Kakeru Miwa is an otherwise ordinary high school student, but a strange twist puts him on the front line in a supernatural battle against the menacing Oni. With the help of a fantastically powerful battle suit known as "Yoroi", Kakeru joins an elite team that fights the monstrous Oni and defends humanity from otherworldly threats. The team is assigned to protect Oka Myojin, a shrine maiden who is prophesized to save the world, but she must perform a sacred ritual within Shikizakura, the horizon that connects the spiritual and physical world that lies somewhere amid the blooming cherry blossoms and the colorful autumn leaves. But in this world, the journey to destiny is hard-fought, winding and sometimes deadly.
To celebrate the setting in which Shikizakura takes place, members of the series' production staff have all been sourced from the city of Nagoya. The staff includes directors Go Kurosaki and Shinya Sugai, art director Toshihiko Kojima, character designer Manabu Nakatake, and sound director Takumi Saito. Naruki Nagakawa (scriptwriter for Ergo Proxy) provides series composition while Asaka (Laid-Back Camp) and May'n (Ancient Magus Bride) perform Shikizakura's theme song.
The series features a cast of new seiyuu, also from Nagoya, who are making their anime debut in Shikizakura. They include Yudai Noda as Kakeru Miwa, Shingo Yoneyama as Ibara, Eri Sakazaki as Kaede Naruse, Natsuki Ochiai as Haruko Yamada, Shoto Mizukami as Ryo Hattori, Daisuke Nakamoto as Kippei Nagatsu and Miho Mashiro as Oka Myojin.
Sentai will stream Shikizakura in association with select digital outlets in Fall 2021 with a home video release to follow.
For Sentai's latest announcements regarding this and other great titles, be sure to like us on Facebook and follow us on Twitter.
About Sentai
A Cool Japan Fund portfolio company, Sentai is a leading global supplier of anime and official anime merchandise, distributing and curating one of the industry's most diverse libraries of top trending and classic titles. Sentai offers thousands of hours of content across both traditional and digital platforms and is dedicated to bringing captivating stories and iconic characters directly from Japan. With hit series that include MADE IN ABYSS, Food Wars!, Princess Tutu and Parasyte -the maxim-, Sentai's catalog continues to grow with new favorites like Bloom Into You, Revue Starlight and O Maidens in Your Savage Season, as well as classic anime series such as Legend of the Galactic Heroes and The Big O. For more information, visit www.sentai.com.
###