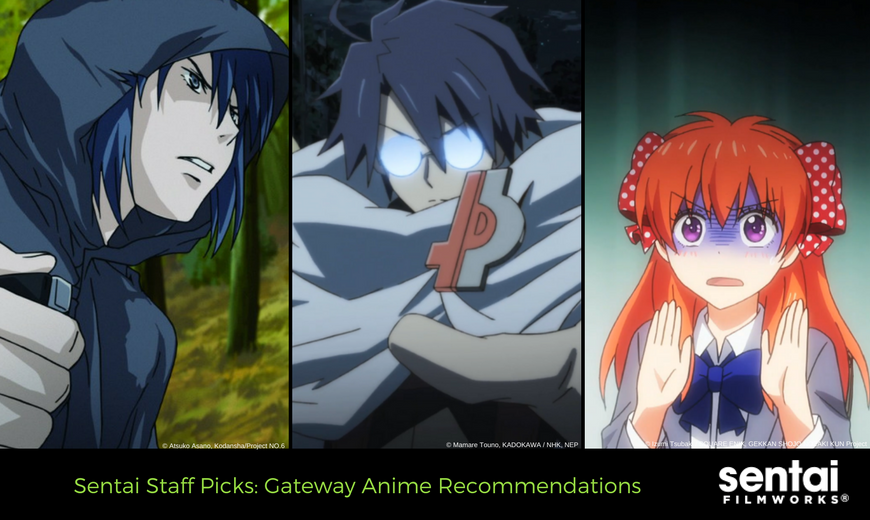 Sentai Staff Picks: Gateway Anime Recommendations
---
There's a lot of anime out there and if you're trying to convert a friend or significant other it can be tough to get through all the clutter. It can be especially daunting for a newbie jumping into the anime genre. Whatever the situation, we've asked around the office for top gateway anime recommendations and compiled a list to convert even the most resistant of people.
What better for a gateway anime than a show with a literal GATE? This is an action-packed series that draws on sci-fi and fantasy elements. Itami, a self-described otaku, is drawn into an otherworldly conflict when a mysterious gate suddenly appears in the middle of Tokyo. An entirely different world lies beyond the gate, and with it comes a new set of problems, from both the international community and the civilization within the gate. If your friend is interested in action, fantasy, politics, and/or cute girls, then this is the show you're looking for.
If comedic timing and close friendships are more appealing, Monthly Girls' Nozaki-kun is your show. Chiyo's failed confession to the oblivious Nozaki-kun paves the way for all their crazy antics within the series. The comedy is over-the-top in a good way and portrays Chiyo's ever growing circle of friends as they get to know each other. As an inside look at a socially awkward teenage boy making shoujo manga with his friends, of course, nutty things are going happen. What can ever go wrong in the name of love?
If you are into virtual reality, MMORPGs, or video games in general, this anime takes the genre to a whole new level. The trope of getting stuck inside a game can be used in multiple ways: as a way to set up a harem, the plot foundation as characters attempt to figure a way out, and more. Log Horizon, however, takes an entirely different approach, following the gamers as they build their own society and learn the new rules by which they must live. Shiroe, in particular, takes the initiative to build an economy, a government, and alliances. This series is ideal for those who want a realistic stuck-in-a-game-what-if story, as well as their dose of fantasy and sci-fi.
For that one friend that is a fan of horror, complete with cringe-worthy death scenes, Another is just the fix you need. The story follows a curse that seems to plague Yomiyama North Middle School's class 3-3. A deadly mix of Final Destination and your run-of-the-mill school horror story, this anime is anything but ordinary. The haunting pacing allows for genuine fear to take hold, and we can't help but hide under our blankets!
Contrary to the cute art of the show, this is one of the most thought-provoking shows on the list. Set 1,000 years in the future, it follows a young girl, Saki, and her friends as they grow up and start to unravel what seemed like a perfect utopia. Our favorite things about this series are that we see how their interpersonal relationships change, the awkwardness that comes with the awakening of their sexuality, and the deconstruction of their beliefs in their once-perfect world. For the philosopher (or any person who thinks anime can't be complex), this is a show that will leave them floored.
For those intrigued by dystopian narratives, look no further than this beautiful show. Shion lives a hauntingly simple utopian lifestyle, until his restlessness gets the better of him. An encounter with a young, escaped prisoner named Nezumi changes the course of Shion's life forever. When the government shows signs of censorship, including erasing one of his friends, Shion finds himself as a fugitive. With the help of that very convict he saved before, Shion discovers that the scarred world outside No. 6 is terrifyingly different, but that the real horror lies in the perfection he once called home.
If you've got someone who likes music, and also happens to like cute things, and you're trying to get them into anime, this is the show for you. From an anime studio, famous for their cute moe, K-On! combines cute girls with music, as the Light Music Club attempts to be stage ready for their debut at the school festival. However, one of their guitarists, well… doesn't know how to play the guitar! K-On! is a fun, adorable show that depicts the building of friendships, touches lightly on the uphill battle of learning an instrument, but most of all allows you to relax and enjoy yourself.
For our lovers of romance, we have My Love Story!, the thematically named gem of a show. Hilarious in its presentation of characters and story, it follows Takeo and Rinko's love story and how they must learn to overcome their own shy natures to understand one another. One of the sweetest, innocent (and healthiest!) relationships, our romance junkies will just die when they see these two together. With a lot of laughs and heart, we promise you that they will be hooked on this shoujo!
The anime that decimated the concept that sports anime isn't interesting. For those who love some good camaraderie, team spirit, and cheering on the (literal) little guy. Shoyo Hinata is enamored with volleyball… but his stature leaves something to be desired. He joins Karasuno High School Volleyball Club, only to realize his rival, Tobio Kageyama, is part of the team. You'll be on the edge of your seat following the ultimate underdog sports anime, and left wondering when volleyball became so exciting!
Anyone interested in supernatural stories will enjoy this classic anime movie. Enter a world where vampires and werewolves (the legit kind) roam, and prepare to be enchanted. Doris Lang is being pursued by Count Magnus Lee, who wants make her his vampire bride. Scared of this unwanted attention she ends up meeting D, who she tries to hire to protect her. Beautifully, classically animated, this title is a real treat for those who are looking for something more vintage for their peers.
If you don't have a lot of time and want to show off the wide-range appeal of animation, Short Peace is the way to go. With four short films compiled into a single disc, there's a little bit of everything to reel in even the most stubborn of viewers. Our favorite is Combustible, a take on the star-crossed lover's trope… we cried.
FEEL ALL THE FEELS WITH US~
Introducing someone into anime is difficult, because we all have different reasons for falling in love with the art form. These gateway anime are meant to spark the undying fire of fandom! What was your gateway anime? Tell us on Facebook, Twitter, Google+, and Tumblr!