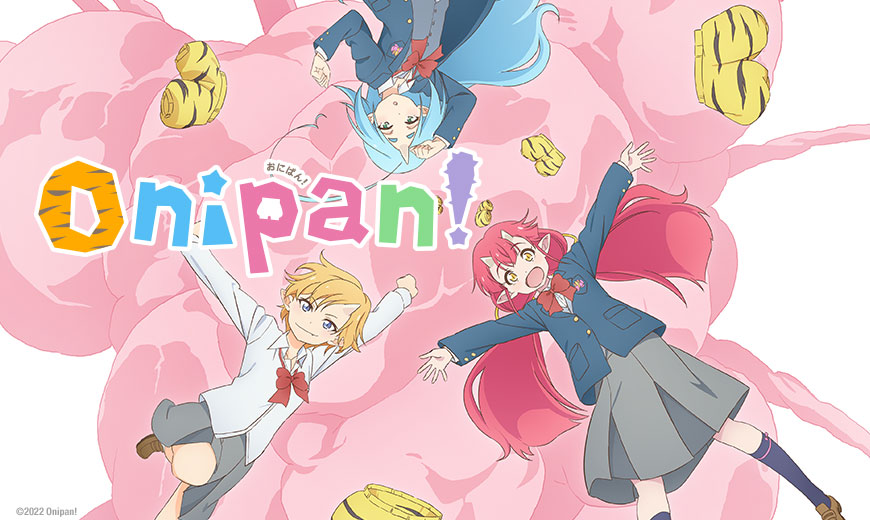 Sentai Unleashes WIT STUDIO's "Onipan!"
---
HOUSTON, TX — March 17, 2022 — Sentai announced today that it has acquired exclusive rights to WIT STUDIO's Onipan!, a modern comedy series with a classic Oni-girl twist, for audiences around the world (excluding Asia). The series premieres exclusively on HIDIVE during the Spring 2022 anime season.
Over the centuries, oni (AKA demons of Japanese folklore) got a pretty bad reputation. Now it's up to three plucky oni kids — sunny Tsutsuji, cool Tsuyukusa and boisterous Himawari — to improve human-oni relations through love, friendship and superpowered underpants!
Onipan! is a production of WIT STUDIO, the acclaimed creative force behind legendary series like Vinland Saga, Attack on Titan, and Ranking of Kings. The original creators of the Onipan! Project include Norihiro Naganuma, who is known for directing Ancient Magus Bride (also serving as the assistant director for Hozuki's Coolheadedness and Kimi ni Todoke: From Me to You), WIT STUDIO and Shogakukan-Shueisha Productions. Onipan! is directed by Masahiko Ohta (Himouto! Umaru-chan, Yuru Yuri, Minami-ke) with music by Yasuhiro Misawa (Kokoro Connect, How clumsy you are, Miss Ueno., Hinamatsuri) and series composition from Takashi Aoshima (Re-Kan!, No Game, No Life, Love Lab).
The series showcases the debut performances of Kokona Nonaka as Tsuyukusa, Mika Negishi as Himawari and Yume Nozaki as Tsutsuji, the main Oni-kids. The series also stars Miyu Tomita (MADE IN ABYSS, Kaguya-sama: Love is War Season 2, Gabriel DropOut) as Noriko Issun, Kaori Maeda (Kandagawa Jet Girls, Love Live! Nijigasaki High School Idol Club, Miss Kuroitsu from the Monster Development Department) as Momo Momozono and Kikuko Inoue (Fullmetal Alchemist: Brotherhood, Is this A Zombie?, Ah! My Goddess) as Kuma.
Sentai will stream Onipan! exclusively on HIDIVE, its direct-to-consumer streaming service, with a home video release to follow.
For Sentai's latest announcements regarding this and other great titles, be sure to like us on Facebook and follow us on Twitter.
About Sentai
Sentai is a leading global supplier of anime content and official merchandise dedicated to bringing captivating stories and iconic characters directly from Japan. Sentai's brands include HIDIVE (direct-to-consumer streaming), SentaiFilmworks.com (direct to consumer E-Commerce), Anime Network (Cable SVOD) and Sentai Studios (localization and studio services). Sentai's diverse library includes thousands of hours of hit titles and classic series including MADE IN ABYSS, Akame ga Kill, Food Wars!, Clannad, Is it Wrong to Try to Pick Up Girls in a Dungeon?, High School of the Dead, Girls & Panzer, No Game No Life, K-On!, Assassin's Pride and Parasyte -the maxim-.
###