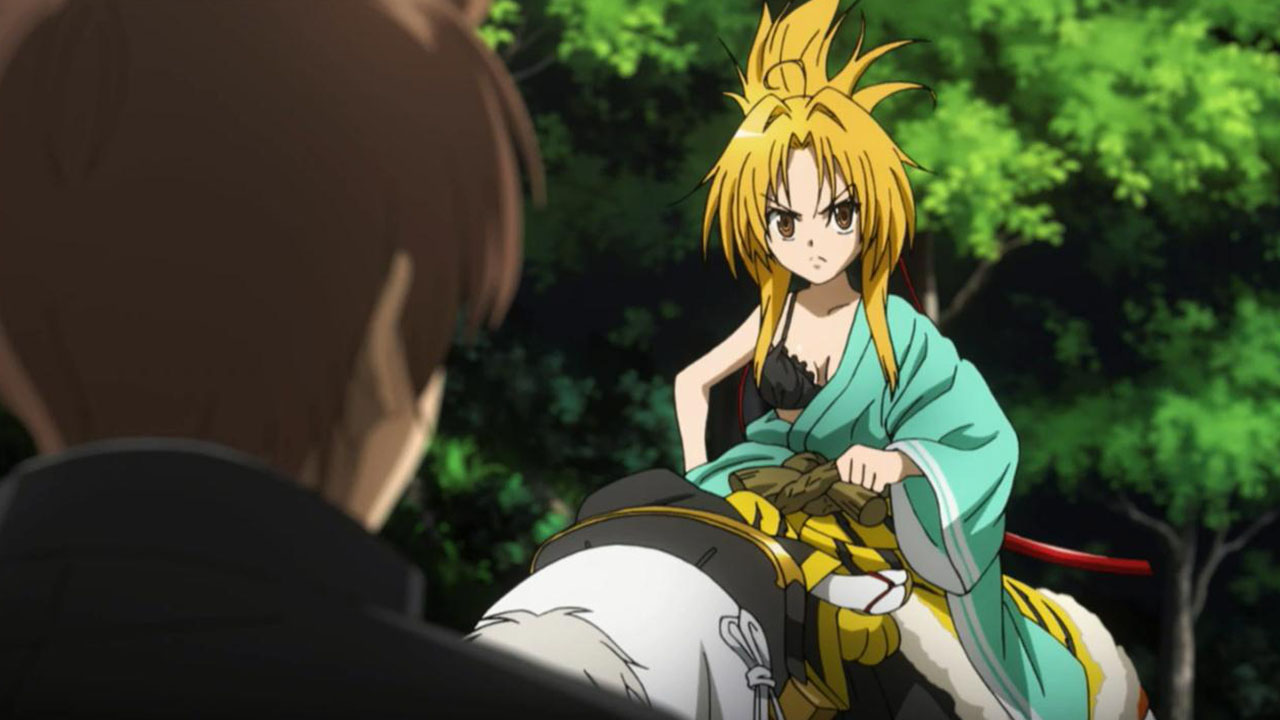 The Ambition of Oda Nobuna Official Full English Dub Cast List
---
Available 16, 2014
Preorder TODAY!
Blu-ray: http://bit.ly/NobunaBD
About THE AMBITION OF ODA NOBUNA
Yoshiharu Sagara thought he knew his Japanese history backwards and forwards, but when he inexplicably finds himself in the past everything he thought he knew was wrong and he's in a very different history altogether! Not only is this timeline's version of the legendary (and very male) Oda Nobunaga now the cute (and very female) Oda Nobuna, but one of the first things Yoshiharu manages to accidentally accomplish is getting one of the Sengoku era's most important historical figures killed!
Still, when you're stuck in the past, have a semi-reliable knowledge of one possible future, and there's now a vacancy in the history books, what's your best present course of action? Aligning yourself with someone with the potential to become one of the most powerful warlords in any of Japan's possible histories might not be a bad start. Provided, of course, that you can keep yourself from becoming too intimately involved in the cloak and dagger action during a time when the cloaks cover body armor and the daggers are paired with multiple swords! But that's just part of the risk you assume when your history becomes her story!
Director
Chris Ayres
English Vocal Cast
| | |
| --- | --- |
| Oda Nobuna | Emily Neves |
| Sagara Yoshiharu | Clint Bickham |
| Maeda Inuchiyo | Caitlynn French |
| Shibata Katsuie | Carli Mosier |
| Niwa Nagahide | Molly Searcy |
| Hachisuka Goemon | Hilary Haag |
| Ikeda Tsuneoki | Tiffany Grant |
| Asano Mataemon | Kurt Bauer |
| Nene | Allison Sumrall |
| Matsudaira Motoyasu | Margaret McDonald |
| Hattori Hanzo | Leraldo Anzaldua |
| Akechi Mitsuhide | Krystal LaPorte |
| Kinoshita Toukichirou | Christopher Ayres |
| Imagawa Yoshimoto | Nancy Novotny |
| Tomizuka Motoshige | Nick Landis |
| Okazaki Tadami | Scott Gibbs |
| Saito Yoshitatsu | Christopher Ayres |
| Inaba Ittetsu | Nick Landis |
| Andou Morinari | Rob Nash |
| Ujiie Bokuzen | Scott Frerichs |
| Narration | Luci Christian |
| Saito Dousan | Carl Mastserson |
| Oda Nobukatsu | Shannon Emerick |
| Hayashi Michikatsu | George Manley |
| Sakuma Nobumori | Rob Mungle |
| Sassa Narimasa | Allison Sumrall |
| Asai Nagamasa | Blake Shepard |
| Akao Kiyotsuna | Mike Yager |
| Amenomori Yahyoue | Andrew Love |
| Maeno Nagayasu | Nick Landis |
| Yoriki no Hanshichi | George Manley |
| Yatsurugi Rokurota | Mike Yager |
| Tsuda Nobusumi | Shannon Emerick |
| Zenki | David Wald |
| Takenaka Hanbe | Brittney Karbowski |
| Narration | Luci Chrisitan |
| Saito Dousan | Carl Masterson |
| Asai Hisamasa | Kurt Bauer |
| Tsuda Nobukatsu | Shannon Emerick |
| Bontenmaru | Margaret McDonald |
| Luis Frois | Kasi Hollowell |
| Himiko | Luci Christian |
| Miyoshi Nagayasu | Rob Nash |
| Tsuda Sokyu | Scotty Fults |
| Shoukakuin Gousei | Rob Mungle |
| Matsunaga Hisahide | Shelley Calene-Black |
| Konoe Sakihisa | Mark X Laskowski |
| Asakura Yoshikage | Greg Ayres |
| Imai Sokyu | David Matranga |
| Luis Frois | Kasi Holowell |
| Miyoshi Masayasu | Scott Gibbs |
| Sugitani Zenjubo | Andrew Love |
| Mitsuhide's Mother | Tiffany Grant |
| Mizoo Shoube | Scott Gibbs |
| Od's Mother | Allison Sumrall |
| Takayama Dom Justo | Scott Frerichs |
| Konishi Joaquim | Nick Landis |
| Sagara Yoshiharu | ClintBickham |
| Takenaka Hanbe | Brittany Karbowski |
| Akao Kiyotsuna | Alex Campbell |
| Magara Naotaka | Nancy Novotny |
| Magara Naozumi | Tiffany Grant |
| Asakura Kagetake | Scott Gibbs |